December 2012 events calendar for New York City
Plan your month with our events calendar, featuring free activities, Christmas traditions, holiday highlights and New Year's Eve parties.
By Time Out editors Tue Nov 20 2012
Featured events in December 2012
---
Free events in December 2012
---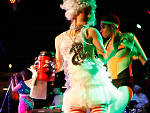 Price band: 1/4
Critics choice
One recipient of the money raised by this comedy extravaganza is the nonprofit Badass Brooklyn Animal Rescue, whose goal is "Saving badass dogs from idiot humans"; the other benefactor is the Red Cross for Hurricane Sandy Relief, which did the same thing for badass New Yorkers and that idiot Sandy. Laughs come courtesy of hosts Arden Myrin and Lisa deLarios, who welcome the sarcastic queen of '90s comedy, Janeane Garofalo. They share the Bell House mic with Jon Glaser of Delocated, Chris Gethard, Sheng Wang, and Adira Amram and the Experience. After the show, get down to beats by DJ AndrewAndrew, the spinning duo that goes by one name, one outfit and one persona.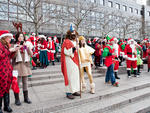 Price band: 1/4
Critics choice
The annual shitshow of shitfaced Santas, randy elves and leggy reindeer faced a bit of a backlash last year, rousing calls to cancel the Christmas pub crawl. Although we're sure some participants were more naughty than nice, SantaCon's covert organizers announced that 2011's event raised $10,000 for Toys for Tots and donated more than 6,000 pounds of canned goods to New York food banks; they've promised to tweak this year's format to tame the ever-growing number of marauding Saint Nicks. Follow @santacon on Twitter for instructions, and don't be a grinch: Go along, have fun, be good and don't forget to donate. Locations and time TBA; visit nycsantacon.com for more information.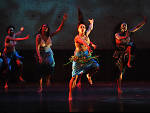 Price band: 1/4
Critics choice
For the sixth year, Harlem's main stage celebrates the weeklong festival with a song-and-dance blowout. The name of the holiday may come from Swahili, but it—and the Apollo show—pulls from the whole of African-American history and experience. Forces of Nature Dance Theatre is joined by Songhai Djeli and Flute Visions, along with Queen GodIs and children's choirs, to illustrate and explain Kwanzaa's seven principles. No, there won't be a test at the end—as long as you clap a lot for the singing kids.
Apollo Theater 253 W 125th St, between Adam Clayton Powell Jr. Blvd (Seventh Ave) and Frederick Douglass Blvd (Eighth Ave)
Until Fri Dec 27
More info
See more Christmas events in December 2012
---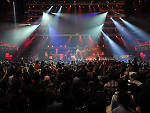 Pop powerhouse Z100 takes over MSG for its annual holiday bash, a glittery gathering of chart toppers performing truncated, hit-heavy sets. True to form, the radio station has secured the squillion-record-selling trifecta of Justin Bieber, One Direction and Taylor Swift. The latter's latest country-pop opus, Red, has made converts of pop skeptics and indie rags alike. Also on the bill: superhot, TONY-approved singer-rapper Ed Sheeran and local disco-popsters Fun., proving that the Top 40 is delightfully far from monotonous.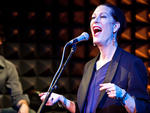 JVB's latest yuletide cabaret show wouldn't sit well with either Jesus or Santa Claus, but the transgender performance icon radiates a unique brand of holiday magic. At Bond's December residency at 54 Below, expect radically reinterpreted Christmas classics and tunes from recent records Silver Wells and Dendrophile. There'll also be plenty of the loving-yet-barbed banter (and, reportedly, "spell casting") that has helped cement Bond's status as a downtown legend. $25–$35 plus $25 minimum.
254 W 54th St, (between Broadway and Eighth Ave), 10019
Dec 9, 10, 16, 17, 23, 30 at 9:30pm
Book online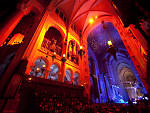 Price band: 2/4
Critics choice
Springsteen isn't the only one dancing in the dark; the Paul Winter Consort's 33rd annual show delivers a groove-filled extravaganza leading up to the longest night of the year. Winter joins forces with West African singer and guitarist Abdoulaye Diabaté, the 25 dancers and drummers of the Forces of Nature Dance Theatre, vocalist Theresa Thomason and the reunited Paul Winter Sextet to put on a spectacular program sure to brighten the cavernous Cathedral of St. John the Divine.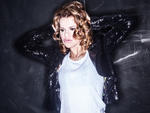 The acerbic actor-comedian-singer returns with her band, the Rebellious Jezebels, for a reliably outrageous four-night end-of-year engagement at Joe's Pub, culminating in two New Year's Eve shows (book tickets by Thanksgiving and bag a discount). Thankfully, 2012 has provided no shortage of bilious fodder that we look forward to seeing through the Divine Sandra's gimlet eyes. Dec 27–30 at 7:30, 9:30pm; $50. Dec 31 at 9pm; until Nov 22 $85, from Nov 23 $100. Dec 31 at 11pm; until Nov 22 $125, from Nov 23 $150.
425 Lafayette St, (between Astor Pl and E 4th St)
Dec 27–30 at 7:30, 9;30pm; Dec 31 at 9pm
More info
See more music events in December 2012
---
Arts events in December 2012
---
You might also like
---