Nick Johnson, 22
Wooster St between Broome and Spring Sts
By Time Out editors Wed Jan 30 2008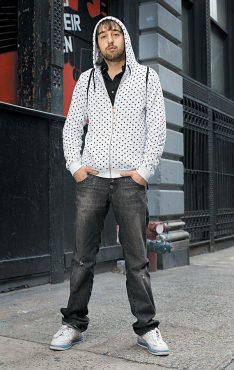 Photograph: Jay Muhlin
Are we supposed to take you seriously in those polka dots?
[Laughs] Maybe not, but they made you notice me.
What do you do?
I work at a PR agency. But I won't work for the Man forever.
If not the Man, then whom?
I'm in a band called the Bad News. We were nominated for Best Rap/Hip-Hop Album of the Year in the Independent Music Awards. We also started a label three years ago, called Screw York Records.
[Editors note: 177 The number of bands on MySpace with "Bad News" in their name. Thirteen of them are New York acts.]
What's your music like?
Progressive and conscious hip-hop with jazz and funk. I like to keep the roots of hip-hop alive with the bragging and all that, but we also make it political.
Like, you mention your bitches and Obama in the same breath?
It's funny you say that: The only time I used the word bitch was in one of my first rhymes ever. In that same verse, I said, "I'm breaking racial barriers like Barack Obama." That was four years ago, and now he's running for President.
Nice one, Nostradamus. So no more bitches then?
Using that word was amateur. I hate hip-hop songs that are misogynistic and rappers who are ignorant.
Why start your own label? And is it Screw York, as in getting laid?
[Laughs] Not at all. We talked to some major labels and they were like, "Okay, we'll sign you for three years: You get no money but we'll pay for your production." We were like, Are you kidding me? We can do this on our own. And we have been.
—Kate Lowenstein
Other thoughts from Nick
"I am a die-hard Giants fan so I'm pretty excited about the Super Bowl. I read it's going to be good for the economy if they win—I guess because New Yorkers will be happy and spend more money."
"I'm a sneaker addict. We rap about how we're hypocritical for wearing this stuff and hating on sweatshops at the same time. But we gotta stay fly."
"I love shopping in Soho. I'll get out of work and all the shops are still open. And I'll be like, "Fuck, I only make $10 an hour, but I gotta buy this." This sweatshirt is from American Apparel, right across the street from my office. Thank God I'm not, like, a rich woman—there's a Chanel on the corner."