Nora McCaffrey, 23
Fifth Ave between 22nd and 23rd Sts
By Time Out editors Thu Apr 5 2007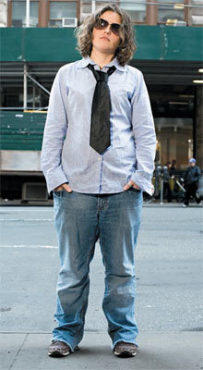 Nora McCaffrey Photograph by Jay Muhlin
"I got a lot of shit from a man outside a bar one night because of my tie—he asked if I was a boy or a girl...and it turned really bad. I got surrounded by his friends, but my friends and I outnumbered them and we managed to walk away. Someone telling me not to do something makes me want to do it even more. I wore a tie for the rest of the week."
What do you do? I'm the development coordinator for In the Life, which is a news magazine on public television. We cover LGBT news. We were one of the first—it started about 15 years ago.
What stories stand out in your mind? We did a segment called A Civil War about gay adoption and states recognizing gay marriage. It covered a couple in Virginia who went to Vermont to get married. The relationship ended and there was a battle over the nonbiological mother's rights to their daughter.
Heavy stuff. Where can people see these stories? They air on Channel 13 monthly, and we have podcasting at inthelifetv.org.
How did you get involved there? I always wanted to do something LGBT-related because I had a lot of teachers in high school who really supported me through the coming-out process. And ever since then I've had this urge to pay it forward.
So you identify as lesbian? Yes.
When did you come out? Two days before my high-school graduation. I almost passed out at the dinner table. But my parents were very supportive and loving. They kind of saw it coming.
How's the lesbian dating scene in New York? Great. I love going to Bar 13 on Tuesdays and Cattyshack.
Are you irked by curious straight women who go to lesbian bars? Not at all! If they're comfortable and having fun, then that's great. And who knows...
...who you might convert? [Laughs] Exactly!—Kate Lowenstein