Nubia, 31, and Laila, 4
Washington St at 14th St
By Time Out editors Thu Aug 3 2006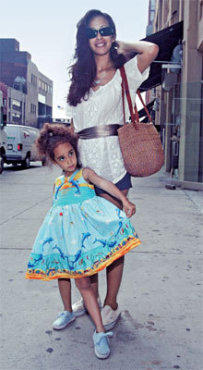 Nubia, 31, and Laila, 4 Photograph by Donald Bowers
OCCUPATION: Manager at bag company Head Porter; student and expert movie-quoter
WHERE ARE YOUR NAMES FROM? "About seven years ago I studied Islam. I changed my name then to Nubia, which means "original woman." Laila is an Arab name which means "night," because she was born at night."
HOMETOWN: "New York City, born and bred. I grew up in the Bronx, but now I live in Brooklyn. The Bronx is too far from everything, and it's kinda bananas up there. It was time for me to get outta there.
BUT NOT OUTTA NYC? "No, I could never move to the suburbs, partly because I don't drive. I never even bothered to get my license. My older sister tried to teach me, but I wasn't into it. I think it's a borderline phobia."
"My mom made this dress for Laila. She makes clothes when she's in the mood, but she doesn't do it as much as she used to. She made things for me when I was younger, and I wish she'd kept them. Laila loves that dress."
Your mom isn't design-savvy? Compensate by shopping at Oilily (820 Madison Ave, 212-772-8686), where girls' dresses start at $75.
--Market editor Kristina Dechter, edited by Kate Lowenstein