Nude York stories
Shed your inhibitions and get naked with us-at the beach, in a bar and for a mad dash down a West Village street.
By Time Out editors Thu Aug 1 2002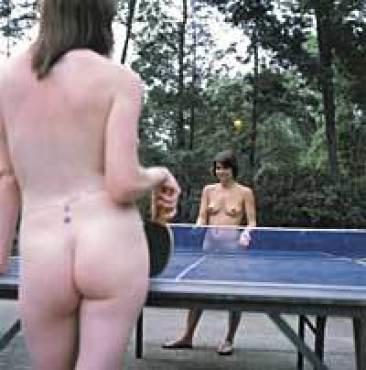 Plus

• Bust a move: TONY's roving reporter takes a test-drive with her top down.
• Hot in the city tonight: Photographer Mathias Kessler captures some sexy New Yorkers au naturel.
• All-nude review: Does a museum nude have the power to titillate? An art expert and a cheesecake connoisseur ogle the masterpieces.
IT TAKES BALLS Games and activities keep nudists—including our writer—busy at Goodland Country Club.
Photograph by Jeremy Balderson
Clingy shirts, pants, socks. Damn bras and briefs! So many clothes can sometimes feel...excessive, especially on days when the thermometer reads 95 degrees. But beyond the private confines of our apartments, there aren't many places where we can prance around in our birthday suits. Or are there? After shedding all modesty and forging forward on a bare-knuckled (and bare-assed) investigation, TONY has assembled detailed reportage on various nude hangouts that NYC and its surroundings have to offer, from yoga in the buff and a bar where disrobed patrons drink for free to a thriving nudist spa in New Jersey. We've also thrown in a couple of more surprising options—including the experiences of a topless woman-about-town and a good old-fashioned streaker (talk about ballsy!). Come on, now. Wouldn't it feel good to wear less?
Goodland Country Club

What it is: Complete with Olympic-size pool, hot tubs, saunas, and basketball and volleyball courts, this nudist spa has a membership of about 300 ($500 a year for singles, $750 for couples); nonmembers pay to attend special events, from barbecues to "black-tie only" parties. Many stay for long weekends—or entire summers—at a campsite or one of 30 cabins on the 200 acres.
Who's here: Depending on the weather, you'll find anywhere from 50 to several hundred nudists, most of whom have traveled from New Jersey, New York and Pennsylvania.
Who's naked: Everyone!
Beware of... A few overly eager single guys who will chat you up (if you're a woman) incessantly.
The skinny: In 1925, property owner Paula Kramer rented out cabins on her land to a group of folks who were (unbeknownst to her) into walking around naked. From there, she became the reluctant operator of a nudist spa—and in 1974, current Goodland Country Club owner Jack (who does not want his last name used) bought the place and took over. The manicured grounds here teem with nature, including a bunch of wild house cats, the occasional deer and packs of (mostly middle-aged, well-fed) bare folk. Upon my arrival, I am greeted by some hyperfriendly members and Jack, a handsome, white-haired man with a German accent. I disrobe poolside, then spend a relaxing afternoon swimming, playing Ping-Pong and spiking volleyballs—all in my birthday suit. Nudity is encouraged (and seemingly chosen by all)—but only required in the pool and hot tubs. While lewd behavior is against the rules, regulars inform me that "tasteful" bouts of wife-swapping, ménage à trois and extramarital philandering are part of the territory.—Vanessa Wruble
Goodland Country Club, Hackettstown, NJ (908-850-1300, www.goodlandcc.com). Call for reservations and travel directions.
BENT INTO SHAPE Twist your way to unclad enlightenment—and a better body—at Hot Nude Yoga.
Hot Nude Yoga

What it is: A two-hour, all-male, combination ashtanga-, vinyasa- and tantra-yoga session held biweekly in a private Chelsea loft.
Who's here: Twenty-one men, predominantly gay and mainly in their thirties and forties.
Who's naked: The entire class.
Beware of... No one—all attendees occupy a higher plane of consciousness.
The skinny: A few days before my session, the group's organizer and primary instructor, Aaron, sends me an e-mail inquiring about my yoga experience (almost none) and whether I'm cool having my body touched in a "nonsexual yet sensual" manner (of course!). He follows this with a set of pre-class instructions that includes key tips—do not eat beans beforehand, and refrain from wearing cologne. Since I arrive a little late, I strip down alone and then enter a bright studio already filled with other nude men. I walk in, trying to look unfazed, even though I've nervously positioned my yoga mat to obstruct the family jewels. I soon realize, however, that no one is here to ogle my body or anyone else's; all the attendees are serious yogaphiles. After about an hour, I'm paired up with a middle-aged guy who's got the body of a fit 20-year-old. I hope this means we're about to start the "sensual" stuff, but instead we simply perform more grueling contortions (at one point, my partner crouches on my back as I squat on my hands and knees). Alas, the hot in this class's title refers strictly to body temp, and we really do spend most of the session sweating like pigs. But at least we don't have to worry about washing our clothes.—Les Simpson
Session locations and times vary. For information, e-mail hotnudeyoga@hotmail.com. $20.
Gunnison Beach

What it is: A 30-year-old clothing-optional beach, located at the northern end of Sandy Hook, New Jersey (at parking lot G).
Who's here: On a sunny weekday afternoon, I find hundreds of men and perhaps 100 women, age 45 on average. The mix includes gay and straight folks, a young urbanite or two, and many families.
Who's naked: About 95 percent of folks, the balance of whom are lifeguards, passersby from neighboring beaches, or those wearing G-strings or shirts to keep their privates from getting too pink.
Beware of... Occasional horny gawkers. During my visit, one offender is ousted by regulars after inappropriate ogling and begging for a massage.
The skinny: After apprehensively disrobing with two friends I've dragged along, I slather on the sunscreen and sit smack-dab in the middle of naked city. I'm among a surprisingly diverse population of all races: muscle boys, parents and toddlers, teens and hippies. Also surprising is how close people sit to one another—hell, I've got four penises within arm's reach! Such is the Gunnison culture—one of friendliness and community, with few inhibitions, but without an overtly sexual vibe. Although, say the regulars, when the lifeguards leave at 6pm, the gang here can get wild. Bring a blanket!—VW
Sandy Hook Gateway National Recreation Area, New Jersey (732-872-5970). By ferry: New York Waterway from W 38th St dock or World Financial Center dock; call 800-533-3779 for reservations; $25. By train: Take New Jersey Transit to Red Bank, then take the M24 bus to the Highlands.
Russian & Turkish Baths

What it is: An East Village bathing complex of steam rooms and pools. Bathing hours alternate between women-only, men-only and coed.
Who's here: On women-only day, I find 45 women in their forties and fifties—earthy types, many wearing beaded belly necklaces.
Who's naked: At least 90 percent of visitors; some women wear bathing-suit bottoms, and a couple wear full bathing suits. (On coed days, bathers are required to wear at least shorts.)
Beware of... Russian strongmen and -women who will, for $30, beat your bare body with a broom made of oak leaves (to exfoliate).
The skinny: After picking up towels and a loose-fitting robe from the bare-bones locker room, I walk into the dungeonlike main chamber, which contains sinks, open stall showers and an ice-cold dunking pool. Most of the women here lounge about naked, but I still feel self-conscious disrobing in such intimate quarters. I also feel like an outsider. As if reading my mind, an older, heavyset Russian recommends a regimen: 15 minutes in the sauna followed by a dip in the cold pool. The sauna is the hottest place I've ever been, with temperatures climbing to 190 degrees. I sit down on a stone bench and struggle to stay in for the recommended 15 minutes, at which point I run out and jump into the shockingly cold pool. As I exit, I study the other women lazing about: Often grooming in pairs, they touch each other without apprehension. With eyes closed, I imagine us all in one of those 19th-century paintings of Turkish baths. I only wish I had brought a friend to gossip with as we scrubbed each other's backs.—VW
Russian & Turkish Baths, 268 E 10th St between First Ave and Ave A (212-473-8806, www.russianturkishbaths.com). $22. Coed bathing: Mon, Tue, Thu, Fri 11am–10pm; Wed 2–10pm; Sat 7:30am–10pm; Sun 2–10pm. Women only: Wed 9am–2pm. Men only: Sun 7:30am–2pm.
BUM RUSH Our unsunned streaker high-tails it past happy-hour drinkers at Tortilla Flats.
Photograph by Shaniqwa Jarvis
Streaking

What it is: It's me, running along West 12th Street, past the patio at Tortilla Flats at happy hour, wearing nothing but my black office socks, running shoes and a Mets cap.
Who's here: Scared kitchen help, shocked businesspeople heading home from work and my giant white butt that glows like the moon.
Who's naked: Me, and only me.
Beware of... The law. If a cop catches you streaking, you may be fined or arrested for breaking one or both of two state laws: one barring "public lewdness," or publicly exposing your "intimate parts" in a "lewd manner"; the other banning "exposure of a person," meaning exposing your "intimate parts" to people who would rather not see them.
The skinny: Ever acted onstage? This is a lot like that, except you're naked, and you don't have any lines to recite. And you are breaking the law. The heart-pounding moments that precede my 20 seconds of stark raving lunacy now seem like a dream: the gaping smiles, the doe-eyed faces, the light banter of fellow city dwellers, so blissfully ignorant of what assault is about to befall them. Most of all, I wish I had been blessed with more up front to bestow upon my fellow citizens. Alas, the denizens of Tortilla Flats have to settle for my compact yet powerful wonder tool, which they may or may not be inspecting as I whiz by like a pale, sprightly speed demon. People are generally shocked to see a large and slightly overweight naked man running at them. But the overriding response from onlookers? Laughter. Whether it's the size of my willy or my Sasquatch-like structure, everyone from the busboys to the not-yet-drunk patrons howls as I buzz by like a newborn babe in New Balances.—Manny Babin
GRIN AND BARE IT New Yorkers got extremely friendly during Spencer Tunick's recent Nude Adrift photo shoot.
Photograph by Vanessa Wruble
Spencer Tunick photo shoot

What it is: Spencer Tunick travels the world organizing groups of naked subjects to pose for his large-scale "site-specific installations." This shoot, part of an ongoing project called Nude Adrift, is his first in NYC in two years; it takes place in Chinatown at 5am on a Saturday.
Who's here: About 300 people have responded to a mass e-mail–and–poster campaign, plus a notice on Tunick's website recruiting people for a few minutes of public nudity. Most are young urbanites—dyed, tattooed, pierced and styled—but some older couples, a few nudists, and a mother and baby are also representin'.
Who's naked: Everybody in the shoot.
Beware of... Onlookers. Some shake their heads in amusement, but one man gets shooed away by Tunick's assistants for gawking and touching himself.
The skinny: Out of the early dawn we arrive, strutting down the alley. We've already undressed in a nearby warehouse, and all we have to look at is wall-to-wall naked bodies huddled together: tattooed shoulders, love handles, small breasts, huge paunches, variously coiffed pubes. It ain't pretty, but it's not ugly either—just human. The smell of booze and cigarettes hangs in the air from the night before (many of us have stayed up all night to make it). On Cortlandt Street, near the corner of Broadway and Canal, we're told to spread out and lie flat on our backs. We're on the ground in silence for about 15 minutes, staring up at the sky, before the artist begins calling out directions. A man from the street stops near us and calls, "Wow, man. What is this? You guys a nudist colony?" No, just a group saying, "We're New York. We're the center of the universe. And we're here to prove it."—VW
To sign up for future photographs, visit www.spencertunick.com.
IMPAIRED JUDGMENT The Stinger Club's drink specials are geared toward those who love their liquor.
Photograph by Shaniqwa Jarvis
The Stinger Club

What it is: No, it's not a nude bar. But this Williamsburg hangout has a unique policy: a free shot for anyone who strips.
Who's here: About a dozen people at 8pm on a Monday. It's a mix of thrift store–loving hipsters and some older locals, all enjoying postwork brewskis.
Who's naked: Me—and my friend, who decides to join me in dropping trou.
Beware of... Nothing, says our bartender, Alex, who estimates that she gives away at least a shot a week, especially in summer, and claims never to have seen a sleazy interaction result from the naked shtick.
The skinny: Behind the bar at the Stinger Club sits a highly visible and provocative sign: GET NAKED...FREE SHOT; GET FUCKED...FRE BOTTLE. So I put on some scanty clothes (to save time) and go for the shot. The rules are simple: You must get 100 percent naked and the bartender must see you 100 percent naked; then you must redress. People do stare when I get naked, of course, but just for a few minutes. The bartender reacts nonchalantly, though my pal gets a high five from an impressed patron. Surprisingly, flashing my naked womanhood in these parts does not inspire any unwanted conversation whatsoever. And two minutes after pulling off my final stitch of clothing, I am redressed (minus my bra) and sipping a free, ice-cold kamikaze. Only in New York, kids.—Melissa Checker
The Stinger Club, 241 Grand St between Driggs Ave and Roebling St, Williamsburg, Brooklyn (718-218-6662).
Nude York stories | Bust a move | Hot in the city tonight | All-nude review