NYC's most decadent cups of hot chocolate
Check out these mugs of warming goodness.
By Carolyn Stanley Fri Jan 27 2012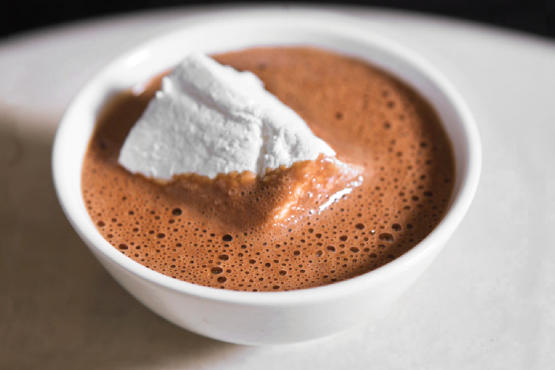 City Bakery Photograph: Carolyn Fong
Van Leeuwen
Like this brand's signature ice cream, the house hot chocolate ($4) allows its high-quality ingredients to shine. They're showcased in a not-too-sweet blend of Michel Cluizel 99 percent cacao "drops," whole milk and a touch of sugar. Top it off with homemade whipped cream or, for a serious indulgence, a scoop of ice cream ($2) in cocoa-friendly flavors like gianduja (chocolate hazelnut) and mint chip. 81 Bergen St between Hoyt and Smith Sts, Boerum Hill, Brooklyn * 632 Manhattan Ave at Nassau Ave, Greenpoint, Brooklyn * 48 E 7th St at Second Ave * 718-701-1630, vanleeuwenicecream.com
DessertTruck Works
It's no surprise this sweets-only outpost takes its hot chocolate seriously, and the thick, spoon-coating brew ($4.73) is not for the faint of heart. Made from Valrhona and Guittard chocolates and heavy cream, the result is so intense you're better off sharing it—or using it to dunk Nutella-filled brioche doughnut squares (two for $5.97). 6 Clinton St between E Houston and Stanton Sts (212-228-0701, desserttruck.com)
City Bakery
No hot-chocolate list would be complete without mentioning City Bakery, whose annual festival devotes an entire month to the decadent concoction. Along with the rich but not overpowering original ($5), this year's lineup features 29 days of eclectic flavors, including Sunken Treasure (a caramel coin and a truffle hide at the bottom of the cup), Moulin Rouge (espresso, pomegranate and lemon) and a surprise finale on leap day. 3 W 18th St between Fifth and Sixth Aves (212-366-1414, thecitybakery.com)
Beaner Bar
Warm up with the spicy El Chicano ($3.75) at this Mexican coffee bar—the extra heat is perfect for especially wintry days. Ibarra or Taza table chocolate (imported from South of the Border) is hand-ground daily, along with white and dark chocolate, then spiced up with cayenne, cinnamon and nutmeg. The mix is then blended with steamed milk and garnished with a drizzle of chocolate and a cinnamon stick. 447 Graham Ave between Frost and Withers Sts, Williamsburg, Brooklyn (beanerbar.com)
The Queens Kickshaw
In addition to haute grilled cheese and pour-over coffee, this Astoria caf has another draw: hot chocolate for purists. You'll find only two ingredients in your cup ($4): finely ground Mast Brothers single-origin Madagascar dark chocolate and textured milk, with no added sugar. The simplicity allows the complex flavor of the 72 percent dark chocolate to come through—see if you can pick out the bright raspberry and citrus notes. 40-17 Broadway between Steinway and 41st Sts, Astoria, Queens (718-777-0913, thequeenskickshaw.com)
Shake Shack
It's never too cold for frozen custard, but the Shack's malted hot chocolate ($3.50) is a worthy challenger to your regular Concrete, and another reason to brave the lines in frigid weather. There's nothing edgy or grown-up about this one: It's sweet and creamy with a cozy touch of malt, the way hot chocolate tasted when you were a kid. Locations throughout the city; visit shakeshack.com
MarieBelle Sweets
Tucked at the rear of this boutique is the "express bar" where shoppers can sample the chocolatier's goods, including the liquid variety. Flavors like white chocolate with cinnamon and nutmeg, or milk chocolate with hazelnut can be made European-style (with hot water) or American-style (steamed milk). If you're spooked by the designer prices (small $6, medium $8), many of the mixes are available to take home (6 ounces $12). 484 Broome St between West Broadway and Wooster St (212-925-6999, mariebelle.com)
Eataly
While navigating the massive artisan-food hall, make sure to stop for a cioccolata calda at Caffe Lavazza. The Italian-style cocoa, ultra dark in color and thick enough to be poured on ice cream, is a treat on its own (small $2.80, medium $3.30) or con panna (small $3, medium $3.50)—the light, barely sweetened whipped cream creates a cool counterbalance to the richness of the chocolate. 200 Fifth Ave between 23rd and 24th Sts (212-229-2560, eatalyny.com)
Users say
This list is nuts! Pretty lazy at best. And you're highlighting the fact that Beaner Bar grounds it's factory made terribly sweet "chocolate"? Factory made. Not to mention the name of the bar is absolutely offensive to Latinos. It's like saying you love the pie at "N" Word Bar. Unbelievable guys. I can't believe the editors at TONY didn't even feature the amazing organic handmade chocolate at SALUD in Brooklyn. Besides the hot chocolate at MarieBelle and Eataly the list could be better research. I mean c'mon it's a delicious assignment.