October 2013 events calendar for New York City
Plan your month with our events calendar of the very best activities, including the annual Village Halloween Parade.
Photograph: Brigitte Lacombe
Top ten events from Time Out's events calendar for October 2013
1. Betrayal on Broadway

Let's be honest: There are lots of cool things to do in October—we love Open House New York and the CMJ Music Marathon—but we're just getting ready for Halloween festivities at the end of the month. Use our events calendar to find the best Halloween NYC events, along with our favorite theater and music events.

RECOMMENDED: New York City events calendar for 2013
Featured events in October 2013
---
Price band: 2/4
Critics choice
Dances of Vice hosts its fifth annual Edward Gorey–themed bash in a transformed Victorian residence; partygoers are allowed to roam fully costumed through the home, built in the style of a Renaissance palazzo. The evening includes music from Grandpa Musselman & His Syncopators and Siren Baroque, digital art by VJ Holly Daggers, a performance from contortionist and aerialist Miss Ekaterina, and plenty more. The dress code includes (in part) "neglected murderesses, hapless children, gilded bats and lonesome mourners."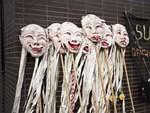 Sixth Ave from Spring St to 16th St. We usually forget about this annual masquerade and drunken circus until the moment we get on the 1 train and find ourselves surrounded by hundreds of proton-packed Ghostbusters, inebriated not-so-Real Housewives and overweight comic-book heroes. So circle the date in your calendar and plan ahead. If you want to walk with the throng, just turn up in costume (Sixth Ave between Canal and Spring Sts; Oct 31 6:30–8:30pm).
Price band: 3/4
Critics choice
Don't even think about bringing along a partner for this scary Halloween attraction, which requires you to go through solo, with a protective mask and a flashlight. Fainthearted folk, be warned: The descent into darkness promises "sexual and violent situations" and "physical contact." While speaking is not allowed inside, screaming is more than welcome. Don't worry, they'll give you a safe word to use if you freak out and want to exit early. Must be 18 or older to enter.
Vortex Theater 164 Eleventh Ave, between 22nd and 23rd Sts, 10011
Sun Nov 10
More info
See the complete Halloween in NYC guide
---
Celebrating its tenth anniversary, the biergarten kicks off festivities with a ceremonial keg tapping. Loreley keeps the party going all month with Bavarian suds like Hofbräu Oktoberfestbier and Schneider Weisse ($7–$15), as well as 12 kinds of sausages from uptown charcuterie institution Schaller & Weber (three for $16). Rounding out the revelry are beer tastings led by brewmaster Rudi Eilers ($55), a pig roast to commemorate the anniversary on Oct 3 ($15), and a free dirndl-and-lederhosen Halloween bash, with Loreley gift certificates awarded to costume-contest winners.
Repping his Bavarian roots, Harold Dieterle will treat guests to a four-course Bavarian dinner in the private room of his West Village restaurant. The prix fixe will feature specialties like schupfnudeln (rolled noodles) with braised rabbit and mustard greens, paired with German wines like Ziereisen Gutedel Heugumber 2011.
At New York City's Wine & Food Festival first ever Oktoberfest bash, Bizarre Foods' Andrew Zimmern hosts a walk-around tasting featuring a dozen beer and sausage varieties, including his own line of links, a collaboration with Pat LaFrieda. Local restaurants like Edi & the Wolf, Pilsener Haus & Biergarten, and DBGB Kitchen and Bar join the Partei with their own takes on German specialties.
See all Oktoberfest events
---
Theater events in October 2013
---
---
Arts events in October 2013
---
You might also like
---