One-stop shopping: MoMA Design Store
By Time Out editors Wed Nov 19 2008
---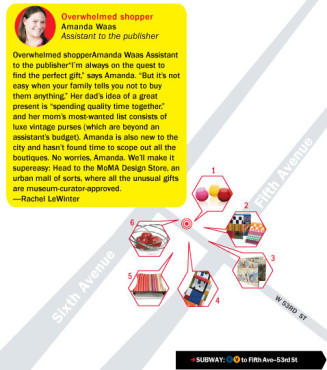 Photographs by Jeff Gurwin
For best friend
(hippie from Maine at heart; New York fashionista for pay)
While it can be difficult (and expensive) to add to anyone's high-end wardrobe, it's easy to stick with accessories: Dress the BFF's laptop in a Built NY colorful striped laptop case ($35) or her wrists with thin leather-strap bangle watches from Muji ($65).
---
For brother
(awkward 14-year-old who loves the History Channel and comic books)
The Art Lover Wallet ($25) is covered with 1940s-inspired comics; it'll turn heads when he whips it out to buy tickets to the Watchmen movie. To hit the history side of his personality, pick up MoMA: Cartoons from "The New Yorker" Magazine ($15) at the MoMA bookstore (across the street).
---
For mom
(obsessed with vintage fashion)
An old Gucci purse may be out of the question, but other equally venerable items can satisfy an affinity for eras gone by, such as a Frank Lloyd Wright–inspired silk scarf ($48) with a design adapted from a rug he created in 1954. She can wear it as she reads Fashion: The Collection of the Kyoto Costume Institute ($59.99).
---
For roommate
(witty writer type who chain-smokes and reads the classics when not watching Gossip Girl)
You can't buy cigs (or nicotine patches) here, but you can feed the writing addiction with a slew of great notebooks and journals, such as Eduardo Paolozzi's kaleidoscope-like set of three blank books ($18.95). When inspiration strikes and she needs to stay up all night penning her classic, give her something to pour caffeine into: a porcelain espresso cup ($20 with saucer) or a fun mug that changes from black to white when filled with a hot beverage ($25).
---
For cousin
(young preschool teacher and new homeowner)
Tempered-glass rainbow cutting boards ($28), colorful three-inch-tall round-bottom glasses that wobble ($40 for a set of four) or the Loop Candelabra made of chromed steel ($28) would each make a great addition to her new space.
---
For dad
(that guy who doesn't want anything—seriously)
Now that Amanda lives away from home, the gift of her presence isn't always possible. A sentimental substitute is a pocket-size photo album inscribed with keep photo with care ($8.95). Fill it with pictures ahead of time for an extra aww factor. As a former chef, her dad will also appreciate the shop's modernist housewares, such as a smartly designed Vin Eau Carafe ($52) featuring a spot to store two drinking cups, and a sculptural fruit bowl made from a single piece of free-flowing chromed-steel wire ($42).
---
Park Slope | Astoria | Soho/Nolita | MoMA Design Store
---
Holiday gift guide 2008: On a budget
More than 200 ideas that don't look cheap.