Othneil Stewart, 19
Lexington Avenue and 86th Street
By Time Out editors Thu Nov 23 2006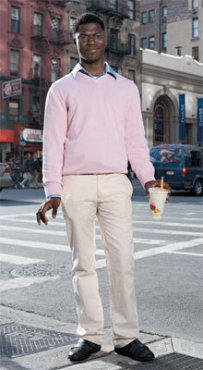 Othneil Stewart Photograph by Jay Muhlin
"I don't follow what other people do; I dress however I feel like dressing."
Dress to your own beat at H&M (hm.com), where this sweater is $40.
Where are you from? My parents are from Guyana, but I've been here all my life. I live in Bed-Stuy.
What do you do? I work at Bonpoint, a children's clothing store with outrageous prices on 91st and Madison.
What does your name mean? [Laughs] Someone else just asked me that. I honestly don't know.
But people must ask all the time. Yeah, they do, but I can't remember the answer. I'll ask my parents tonight, though.
In the meantime, we'll have to deal with the suspense. Do you have a nickname? Yeah, people call me Kanye.
Huh. I would have said Pink. Why Kanye? Because I dress like Kanye West. Also, everyone thought he was gay for a while, and everyone thinks I'm gay—but I'm not.
Does the color of your sweater have anything to do with it? Yeah, that's definitely part of it. Pink is my favorite color. People comment, but I really don't care.
What are you drinking? A Jamba Juice Mango-A-Go-Go. I get it every day on my lunch break.
Don't you think you'll get sick of it? No. I love it, and the other flavors at that place are nasty.
If you could do absolutely anything on your lunch break, what would it be? I'd go shopping at Bloomingdale's and get a pair of shoes. And a nice outfit from Gucci. Or Prada.
What's the best thing about being 19? Freedom.
From what? School, mostly.
So no more classes for you, then? Not for now. I finished high school, but I want to go to cooking school to become a pastry chef.
Where would you like to do your baking, ideally? Tavern on the Green. I've never been there, though.
What did you dream last night? Oh, I don't dream. I just sleep.—Kate Lowenstein