Our ideal 'hood
Upper West, Lower East, Flushing-what makes the best neighborhood? Lucky for Kew Gardens, it all depends on your tastes. To expand our own, we asked experts in ten fields to nominate their favorite parts of town-then used the characteristics from each to build the ideal neighborhood you see on this page. Herein are the winners-and runners-up-for each category. Love 'em? Hate 'em? Let us know. And hey, Kew, we were just kidding. You're great in your own way too.
By Time Out editors Wed Sep 17 2008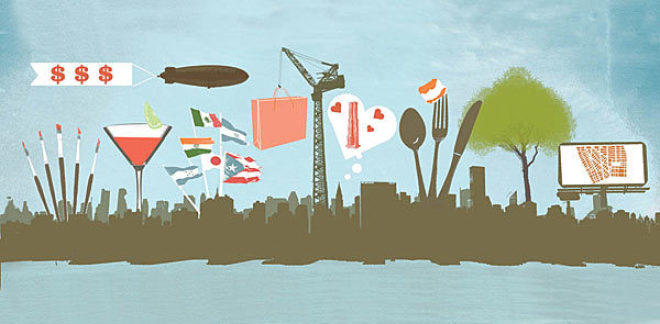 The affordability of Inwood
Quantity and quality come together in upper Manhattan—at a price that won't make you cry.
The architecture of lower Manhattan
Downtown's buildings are on the up-and-up.
The design of the West Village
There's a reason the West Village is one of the most famous neighborhoods in the world. Thanks to its grid-busting layout, it's a local favorite, too.
The shopping of Williamsburg
Hipsterville ain't just about galleries and bars anymore.
The food of Hell's Kitchen
Look beyond the glut of tourist-trap eateries and you'll find that Midtown West is rife with restaurants to rave about.
The bar scene of the East Village
Hate on college students all you want: Fancy pants, fuddy-duddies and everyone in between still love the E-Vill for a night of boozing.
The arts community of the LES
There's more than just cocktails being created in this artistic hub.
The diversity of Jackson Heights
The future of America lies among the garden apartments of Queens.
The parks of Egbertville, S.I.
Haven't heard of it? Now you have no excuse. Get thee to Staten Island's Greenbelt and get lost for a day.
The street culture of Coney Island
Coney Island's mix of Russian flair and sideshow insanity edges out the competition.
The eco-friendliness of Park Slope
When TONY went polling for the most greenest nabe in the city, we knew exactly what to expect.
'hoods to be seen in: Lower East Side & West Village
Enhance your rep—and your social-networking status—by knowing where to be.
What do you think of when you hear…
We asked New Yorkers to play a little word association with NYC neighborhoods. Let the stereotyping begin!
Construction junction
When the dust settles, each of these ten new projects will change the face of its neighborhood.
Got room for seconds?
They may have been the runners-up, but these enclaves are worth exploring in their own right.
Share your thoughts