Pay for play
Watch your back, Naked Cowboy. Our in-house fuzz has a low tolerance for bothersome buskers and their obnoxious audiences.
By Laura Leu Wed Apr 2 2008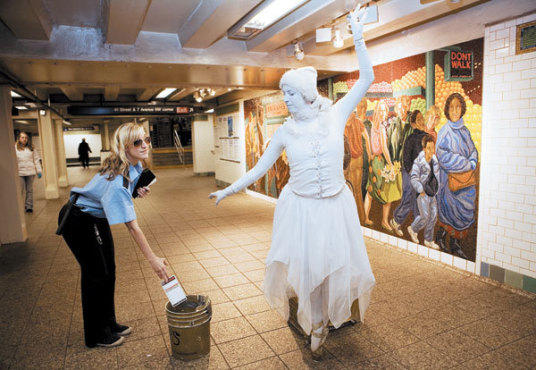 Therisa scares children—and Officer Leu. Photograph: Michael Kirby
CRIME Overt creepiness
Sometimes your street talent is just plain freaky.
VIOLATOR Therisa, 42nd St–Times Sq subway station
This creepy criminal combined dance with gobs of white body paint to bring "Ballerina Mime" to the masses. Sure, she's got talent (you try standing on your tippy toes for minutes at a time), but living statues scare the living shit out of normal people. "Children have screamed when I've come to life," admitted the perp. "But they're usually okay after a minute or so." Yeah, until they see a real statue and run screaming.
CRIME Repeated offering of comedy without being funny
For the gazillionth time, yes, we like comedy. And no, we don't want your goddamned discounted tickets to tonight's show.
VIOLATOR Zubair, Broadway at 46th Street
"Are you interested in a comedy show tonight?" Zubair asked as I strolled past, which is kinda like a herpes-lipped hooker offering me a blow job. I flashed him my badge, and the jig was up. "I know I'm annoying," he said. "Most people say no or ignore me." Maybe it's time to rethink your approach, buddy. How about—oh, I don't know—trying to make people laugh instead of cringe?
CRIME Selling out
Don't give it up to the Man, man.
VIOLATOR The Naked Cowboy
Once upon a time, the Naked Cowboy was just a weirdo panties-wearin' tunesmith who counted the coins in his guitar case after a hard day of busking. Now he's shilling for Pepsi and Chevrolet and shaking his tush in music videos for Nickelback and Cake. So when I went to Times Square to ticket him, what did he say? Nothing, because his only presence was on a JumboTron over Spotlight Live. Sellout!
CRIME Enjoying the show without paying the piper
Hey, you! Yeah, you, way in the back. We see you tapping your toe and bobbing your head. Pony up!
VIOLATOR Eric and Sarah, 42nd St–Times Sq subway station
These Vermont lovebirds became TONY jailbirds after I caught them enjoying the sweet tunes of fusion guitarist Geovanni Suquillo without tossing any change into his box. "We're broke," they whined. "It costs a lot of money to come to New York!" To prove his point, Eric showed me the $22 left in his wallet—and then tried to bribe me with it. Shame on you, Eric! I can't be bought for less than a hundo.
Who do you want to see TONYPD bust next? E-mail suggestion to inyc@timeoutny.com.
See previous TONYPD