Penelope Currier, 24
Center St between Canal and Hester Sts
By Time Out editors Thu Sep 13 2007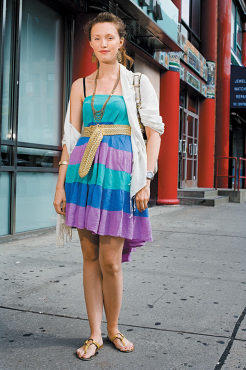 Penelope Currier
Photograph by Jay Muhlin
Wasn't Penelope a character in The Odyssey? Yeah—she was married to Odysseus, and someone else wanted to marry her. So she said when she was done weaving her tapestry she'd marry him. But every night she'd unravel everything she'd woven that night and then start again in the morning.
So are you a weaver? No, but I go to school for fashion design.
Close enough! Where? At Pratt. I want to do children's wear.
Kids, huh? What's the appeal? I really don't know, especially since I don't like little children [Laughs].
Um, that's weird. Are you taking revenge on little brats by clothing them in ugly stuff? [Laughs] Nah, it's just that I sort of like mini clothes. There's something strange about dressing little kids like adults.
What are you designing, bow ties? More like skinny jeans for five-year-olds. It's strange but cute.
Skinny jeans on fat little baby legs?What else? Stilettos for toddlers? [Laughs] They'd probably have balance problems. Little ballet flats are really in. And a lot of the dresses are very grown-up looking. It's amazing: these $300 dresses for little girls who will grow out of them in two months.
And you're comfortable with that? I don't know if that's the price range that I'd feel comfortable in, but I'd hope that the quality would be really good and that they'd be timeless designs—great hand-me-downs.
But stylish little kiddies will have to wait two decades for skinny jeans to come back in before they hand them down... [Laughs] I know—it's tough.--Kate Lowenstein