Pet adoption
Need a roommate that won't steal your shampoo or lock you out? Try bringing home one of the kitty or canine variety.
By Sara Brady Mon Dec 8 2008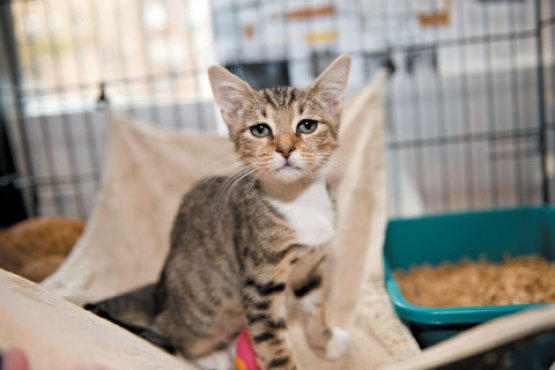 November 11, 2008 1:06:34 AM EDT
To: inyc@timeoutny.com
Subject: Pets
I've seen pet adoptions on the street in Park Slope. Are on-the-street adoptions legit? How can I just walk up and get a dog?
Margaret Leigh
Borough Park, Brooklyn
With winter closing in, most adoption services and rescue organizations bring their outdoor operations inside, but many are connected to reputable groups. Petfinder (petfinder.com) is an index of adoptable animals around the country, and the Mayor's Alliance for NYC's Animals (animalalliancenyc.org) has a long list of organizations that adopt out pets. Where you should go depends on how quickly you want to take home your new friend, or if you'd prefer a younger animal or particular breed—though all legit services should spay or neuter and hand over a healthy, alert pet.
---
For same-day companionship
The ASPCA (424 E 92nd St between First and York Aves; 212-876-7700, aspca.org) has a relatively simple one-page application that asks about all the other inhabitants of your house and your preferences in a pet. Fees start at $75, and you'll need two forms of ID, as well as a reference. "We have the understanding that most people come with good intentions to provide a loving home for animals," spokeswoman Gail Buchwald says. "We will adopt out the moment a person decides today's the day." With the adoption fee you get a leash and collar or pet carrier, and the animal's vaccinations and spaying or neutering are covered. They also throw in microchipping (basically, it's LoJack for pets) and behavior counseling—plus they'll be waiving the fee in honor of the holidays Saturday 13 and Sunday 14.
Out and about: The ASPCA also runs a mobile adoption unit, Pets to the People, which will be in front of The Body Shop (2159 Broadway at 76th St; 212-721-2947, thebodyshop-usa.com) on Saturday 13 and Sunday 14, and Petland Discounts (734 Ninth Ave at 50th St; 212-459-9562, petlanddiscounts.com) on December 18, 19 and 26.
For rescue animals
City Critters works out of the Kips Bay Petco (560 Second Ave at 31st St; 212-252-3183, petco.com and citycritters.org) and adopts out and fosters rescued cats and some small dogs. They require references and a nonrefundable $100 adoption fee, and all animals are checked for illnesses such as feline leukemia virus and feline immunodeficiency virus in kitties, or heartworm in canines. City Critters prefers to match kittens with households that already have a cat.
Out and about: They also partner with North Shore Animal League vans, which will be at St. Andrew the Apostle Church (6713 Ridge Blvd between 67th and Senator Sts, Bay Ridge, Brooklyn) and Happy Pets (9818 4th Ave, between 99th St and Marine Ave, Fort Hamilton, Brooklyn) on Saturday 13, and at Alpha Pet City (249 E 10th St between First Ave and Ave A), Petco (147 E 86th St at Lexington Ave, 212-831-8001), and the corner of Central Park West and Central Park South on Sunday 14.
Kitten Little Rescue (Pet Stop, 564 Columbus Ave between 87th and 88th Sts; kittenlittlerescue.com) is the place to go if you want a tiny, adorable kitten (around 10 weeks old). Owner Tammy Cross raises many of her rescues by hand, bottle-feeding if necessary, so the adoption process is slightly more stringent than you'll find elsewhere. The animals come with their vaccinations and spaying and neutering is covered, and Cross delivers the cats to make sure your home is safe for them. "For a first-time pet owner, I have to make sure they get what I'm talking about," Cross says, such as screens for windows. "There's all kinds of [safety issues] people who've had older cats have forgotten."
For those with commitment issues
Many organizations need foster homes for animals, or you can contact the Guide Dog Foundation for the Blind (guidedog.org), which needs loving, temporary guardians to raise Labrador and golden retriever puppies for 12 to 14 months, at which point the puppy raisers return the animals to full-time training to be service dogs. "These animals are not pets," spokesman William Krol says, "so we have a whole training protocol that our puppy raisers follow. They can't climb on the furniture, no people food, no scavenging for food. " The foundation pays for the animal's vet costs, but you'd pay for food. The foundation does a home visit, and you and the puppy must attend at least one obedience class per month. "People do get attached," Krol says, "but for a lot of them it's a gift for someone they haven't met. Parents say it teaches their kids that sometimes saying goodbye isn't a bad thing because it's helping someone else."
More options
Animal Care & Control of New York City (326 E 110th St between First and Second Aves; 212-788-4000, nycacc.org) is what oldsters call the pound. It's the city's facility for abandoned or lost animals, and where you can find many dogs, cats and even rabbits desperately in need of good homes. ACC requires a photo ID and your landlord's contact information if you rent, and will spay or neuter the animal for you. Fees start at $25 for cats and for dogs older than five years, and run to $150 for puppies under four months old. Senior citizens get a 20% discount.
See more You asked for it