Peter Kelleher, 51
Ninth Ave and 19th St
By Time Out editors Thu Nov 2 2006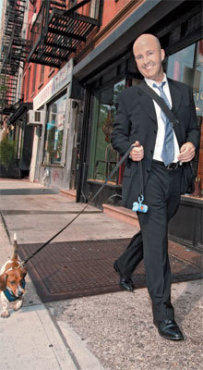 Peter Kelleher Photograph by Donald Bowers
"I don't really have a style. Dressing up for work is easier, because it's like putting on a uniform. I find it harder to go casual."
You might find it hard to go casual too if you owned this sharp Calvin Klein suit. Get it at a discount for $340 at menswear-discounts.com.
Where are you from? New York City.
That's a rarity—you grew up here? No, I grew up in Massachusetts.
So how long have you been here? Twenty-five years.
Oh, you are a New Yorker then. [Laughs] Yeah, I'd consider myself one.
What do you do? I'm a sales manager for Prudential Douglas Elliman.
How long have you been in the real-estate biz? About 22 years. I used to be a sales agent and now I manage—or try to manage—sales agents. I hire, inspire or fire.
Catchy. What's the most important strategy for clinching the deal? Knowledge about the market.
I'll bet it's dramatically different from the way it was 22 years ago. Yes. Everywhere in Manhattan is desirable now, whereas 20 years ago that wasn't the case. Then, the places to buy were on the Upper East and West Sides. When people wanted a bargain they moved down to the Village.
How things have changed. Yeah—now if they want a bargain they move to the Upper East Side, because they can't afford the Village.
Where do you see the market going? Up. We're becoming a city of owners rather than renters. When I moved here, all my friends wanted to do was get a rent-stabilized, cheap apartment. People didn't really believe in owning real estate. But now the desires have changed and young people want to own.
I can't let you go before asking about this little guy on the leash. This is Sam. He'll be two at the nd of November. He's a piebald dachshund. He's very fun and very cute.
He looks pretty excited to be out for a walk. I just picked him up from day care.
Day care? Sounds fancy. Yeah, he goes to the dog run. They take really good care of them there. There's even a swimming pool. Sam doesn't like to swim, but he gets to spend the day with other dogs. He's totally spoiled.—Kate Lowenstein
Market editor Kristina Dechter