Players to watch at the U.S. Open
By Drew Toal Tue Aug 25 2009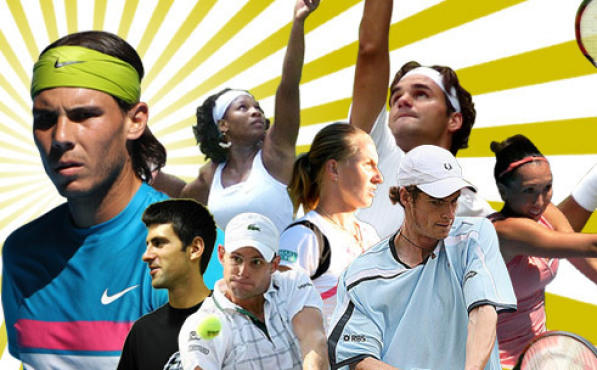 Roger Federer

Claim to fame: It has been an eventful year for the 28-year-old Federer, the bionic man many consider to be the greatest player ever. He regained the No. 1 world ranking after winning at Wimbledon, broke Pete Sampras's record for all-time Grand Slam victories and became the father of twin girls.
How to spot him: See that expressionless guy out there ruthlessly crushing all opposition? Yeah, that's him.
Impress your friends: When asked if anyone can challenge Federer at the Open, reply: "Did you see the way Fed's renewed intensity and relentless ground strokes made Murray start punching his own racket like it was a prone Kimbo Slice a few weeks ago during the Cincinnati Masters semis? Yeah, we haven't seen the best from Rog yet."
Rafael Nadal

Claim to fame: The young Spaniard, 23, is the first male tennis player to hold Grand Slam singles titles on clay, hard court and grass at the same time. The U.S. Open, though, has not been his best arena.
How to spot him: Although he used to look like some kind of crazed tennis pirate, Nadal now generally wears sleeves and has forgone his usual Capri pants, at the request of his sponsor Nike (much to his female fans' chagrin).
Impress your friends: If Rafa appears to be in trouble, say: "Man, looks like his tendonitis is really bothering him. But don't count the kid out. He's in this thing, so long as he keeps the ball deep, uses lots of topspin and targets Roddick's backhand. Oh, and rips off those sleeves when it's crunch time."
Novak Djokovic

Claim to fame: Djokovic is even younger than Nadal (22), and once beat Roddick, Nadal and Federer...all in the same tournament!
How to spot him: When he's losing, he has been known to (and criticized for) withdrawing early. We'd like to see less cowardice and more fight from the talented young upstart.
Impress your friends: After a drop shot, say: "Did you see that backhand? It was so well disguised! Dude is like some kind of tennis ninja. There was so much underspin that I'm surprised the ball didn't rip a hole in the space-time continuum."
Andy Murray

Claim to fame: The Scottish heir apparent and 2008 U.S. Open runner-up to Federer has just supplanted Rafael Nadal as the world's No. 2 player, and all by the tender age of 22.
How to spot him: To paraphrase Mike Tyson, Murray's style is impetuous, and his defense is impregnable. Despite not wearing a kilt on the court (a mistake, in our opinion), this hard-court specialist has a devastating backhand that's recognizable anywhere.
Impress your friends: If asked whether you think Murray is worthy of his new world ranking, answer: "Are you fucking kidding me? He must've sold his soul to Satan for that backhand, and the pace on his forehand isn't too shabby neither."
Andy Roddick

Claim to fame: The man with the world's fastest recorded serve (155mph) is still a force to be reckoned with at 27 years of age, but can't seem to figure out Federer, whom he has beaten only twice in 21 career matches.
How to spot him: His all-American good looks and McEnroe-esque berating of the umpires.
Impress your friends: If someone dismisses A-Rod's chances out of hand, pose this counterpoint: "Listen, Andy is a year younger than Federer, and this year's marathon Wimbledon final proves that he is no longer a one-trick pony. I have a crumpled Alexander Hamilton that says Roddick wins the upset victory here this year."
Serena Williams

Claim to fame: Before she was derailed by a knee injury in 2003, the younger Williams sister, 27, was neutralizing opponents with extreme dispatch. In the years since, she has largely regained her preinjury form and is current the defending U.S. Open, Australian Open and Wimbledon women's champion.
How to spot her: Williams has often pushed the limits of on-court tennis fashion (she wore a white trench coat during warm-ups at Wimbledon in 2008), and can be counted on to make your khaki-and-polo uniform seem drab and uninspired in comparison.
Impress your friends: When talking repeat, be impressively vague: "With Serena, it's feast or famine. She hit 44 winners against Jankovic in the finals last year, but also had 39 unforced errors. At this point in her career, she shouldn't be making so many rookie mistakes."
Jelena Jankovic

Claim to fame: This Serbian debutante, 24, was the first-ever year-end world No. 1 player to have never won a major title, back in 2008. Last year, she lost in the U.S. Open finals to a resurgent Serena Williams. She's back, and out for vengeance.
How to spot her: By now you've undoubtedly watched Jelenin svet, the documentary film about her life. If not, you can identify her by her defensive, counterpuncher's style and two-handed backhand down the line.
Impress your friends: Say: "J.J. might get in trouble with those uninspired serves, especially against powerful returners. But the longer this goes, the better off she'll be—she has the endurance of a lady Lance Armstrong."
Svetlana Kuznetsova

Claim to fame: Kuznetsova, 24, won at Roland Garros this year, and is also a former U.S. Open champion (2004). It's also worth noting that she was born in St. Petersburg (then Leningrad), a city that withstood a Nazi siege for 872 days during World War II. You can't teach that kind of toughness.
How to spot her: Unlike some of her Russian cohorts, Kuznetsova doesn't look like she moonlights as a Victoria's Secret model, but that won't stop her from shattering hearts on the court if she walks away with the 2009 title.
Impress your friends: If Sveta breaks someone's serve, say, in your best Drago, "I must break you." Wait for laughs.