Podcasts: Catch what you missed at these great events
If you missed out on tickets—or are just feeling too lazy to leave the couch—these podcast recaps offer do-overs delivered right to your headphones
By Andrew Frisicano Fri Mar 7 2014
Saint Vitus Photograph: Lizz Kuehl
New York is a city of abundant possibilities, but sometimes you just want to stay home with a bottle of wine and your fluffy moccasins. If you're struggling between FOMO and the joys of putting your feet up, these postshow podcasts offer a solution: Stay home, go to sleep early and hear what happened when they're posted online a week or two later.
The traveling storytelling series, which visits NYC each month, focuses on science yarns that are definitely more interesting than yours (that one time you dissected a frog in biology class, we know). Take the "Ouch"-themed tale, for instance, in which a labia-pierced neuroscience student recounted entering an MRI machine (the magnet of which is known to violently pull metal objects from one's body).

See it live: "Mental Health" at Littlefield, 622 DeGraw St between Third and Fourth Aves, Gowanus, Brooklyn (littlefieldnyc.com). Wed 12 at 8pm; $10.

Download it: storycollider.org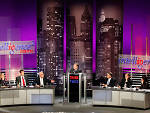 Policy wonks, professors and journalists butt heads over controversial issues like the trade-offs of government spying, the efficacy of Obamacare and the ethics of eating cuddly animals. Even if you miss the talk, dig up the postmortem online and think about how satisfying it'll be to whip out a crowd-tested argument during your next barstool debate.

See it live: "Russia Is a Marginal Power" at Elaine Kaufman Cultural Center, 129 W 67th St between Broadway and Amsterdam Ave (intelligencesquaredus.org). Wed 12 at 6:45pm; $40.

Download it: npr.org/iq
Where better to share a story you once swore you'd never tell anyone than a public forum that's later archived as a podcast? The actors, comedians and writers wrangled for Kevin Allison's monthly show are all too eager to share embarrassing anecdotes about quasi-public defecation and Star Trek–inspired S&M.

See it live: "Freedom" at Peoples Improv Theater, 123 E 24th St between Park Ave South and Lexington Ave (thepit-nyc.com). Mar 27 at 9:30pm; $10.
---
Stream shows from these venues
---
---
Here are the ten New York experiences you simply can't miss.
Don't fret, penny-pincher—each of these fun cheap date ideas will cost you $30 or less.
Tired of swamped tourist traps, huh? Check out these alternative things to do in New York.
Find more popular Things to Do features