Public eye: Brandon Smithson, 24
Sixth Ave at Prince St.
By Kate Lowenstein Fri Nov 5 2010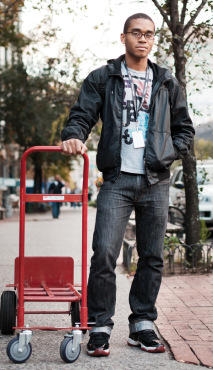 What was in the cart? Chairs. I'm working for a postproduction house and was bringing some chairs from the office to my editor's apartment.
Are you a lackey? Well, I'm a runner. So I, you know, make sure the office is running smoothly....
Will you get me coffee? [Laughs] Coffee runs are included, yes.
Are you aiming for a career in film editing? Yeah, well, the film industry in general. Editing is an interest of mine; I'd say my main focus is to one day be a director of photography or an actual film director.
So when are you leaving us for L.A.? Who knows? New York was the natural first stop—I was born here, and then I went south, and then I went farther south, and I finally came back here in January. But L.A. will definitely be a stop at some point, maybe five years from now.
Where'd you go in the South and why? My family moved to North Carolina when I was 11. My dad was offered a job down there. I went to high school and did a year of college, then I got kind of bored of North Carolina. So I moved to Tampa, Florida. I waited a year, became a resident, and then I went to film school down there.
Isn't there a city in Florida called Brandon? There is. Funny you say that—it's only like 30 minutes or an hour from Tampa.
I hope you get, like, free pancakes or something there. [Laughs] Yeah, no. I've been to Brandon, though. It's a nice place.
More from Brandon
"I just went to the Sunshine Theater by myself and saw that film with Carey Mulligan and Keira Knightley, Never Let Me Go. It was really good. My favorite movies are the ones that capture human emotion."
"The directors I look up to the most typically write their own films. I'm collaborating with an company, Creme Media, to write and direct my own short film. It's a silent psychological thriller."
"My first name is Donald and my middle name is Brandon....I feel more like a Brandon than a Donald. [Laughs] My dad is a tech guy, he works in IT. He wanted to name me Conrad Emerson. And my mom was like, 'That's not happening.' Does my mom usually win out over my dad? Yeah, pretty much. He's the rational, she's the emotional."