Public eye: Clara Bouillon, 35; and Charlie, 9 months
Vanderbilt Ave between Park and Sterling Pls, Prospect Heights, Brooklyn.
By Kate Lowenstein Fri Dec 10 2010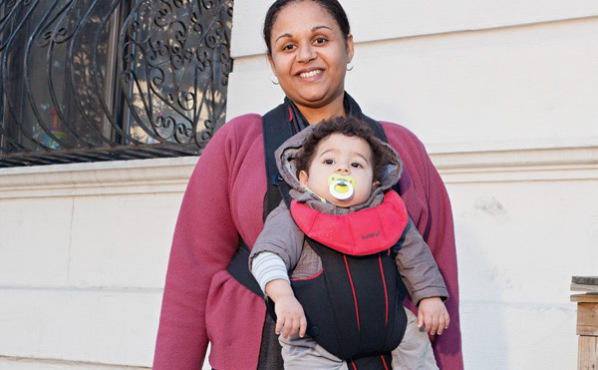 Photograph: Jay Muhlin
Where are you headed with that present? We're going to an older-sister party in Yonkers. My friend is having a baby, and instead of doing a shower, she thought it would be better to have a "sibling sprinkle." It's the first one we've ever heard of!
Yonkers! Is Charlie a well-traveled boy? He's been to Florida; that's about it. We're from Haiti, so hopefully in his lifetime I'd love him to see his country, but now, with the earthquake and everything, we'll see if I ever get there.
Is Charlie's dad Haitian, too? No—Mohammed, my partner, is actually from Yemen. Yemen is important too, I guess. [Laughs]
They both get a bad rap in the news these days. In very different ways, yeah. Mohammed travels to Yemen quite frequently, but then of course, he's from there. I keep an open mind, but it's hard to ignore what you hear in the news.
How did you meet? Mohammed owns a couple of convenience stores in the neighborhood, and my doorman knew him and introduced us. I guess I had stopped in one of his stores several times and...I could kinda tell he was, like, interested. [Laughs]
It's every New Yorker's dream to be in with the convenience-store owner. Yeah, whenever I'm out of diapers, I know where to head.
More from Clara and Charlie
"I'm a teacher, so Charlie's getting Christmas presents that will encourage him to be creative. I'm thinking blocks...and he really loves books."
"I want Charlie to always be treated fairly. You hear about a lot of bullying against Muslim children after 9/11.... I want to teach him to cope and be proud of who he is, no matter what."
"[The gift] we got the older sister is a doll. I noticed before I wrapped it that Charlie was loving playing with it, so I got him one, too. There was a book about a grandmother who buys her grandson a doll and the father is very upset about it when he sees the boy rocking and feeding the doll a bottle. At the end, the grandmother says it's going to make him a good father. I thought of that when I saw Charlie so happy with the doll. It's a great book, and it always makes me kind of weepy at the end."