Public eye: Jackie Carlson, 27
Sixth Ave between Charlton and King Sts.
By Kate Lowenstein Fri Dec 3 2010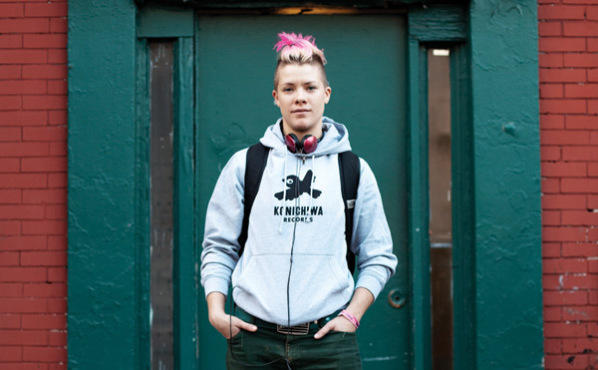 What do you do? I'm a professional dancer—I'm in a company called Streb.
You guys walk up walls and stuff? Yup. Most of my time I spend falling from high heights and landing on my face.
Awesome. Oh yeah. I'm also part of another dance troupe called the Daisy Spurs. It's more...adult.
Does it involve poles and dollar bills? No! [Laughs] We start off in crazy outfits and take things off throughout the show, but we don't get completely naked. We did Bowie Ball recently, and we opened for Lady Gaga's CD-release party at the Highline Ballroom.
How does one become an acrobatic go-go dancer? Well, I was a classically trained ballet dancer, and I grew up also wanting to be a stunt double, which is weird and crazy. I read about Streb in a Time Out issue many years ago, actually. I went to one of their shows and it was the perfect combination of dance and stunts. So I auditioned a bunch of times and finally got in.
Is there an actor you want to be a double for? Angelina Jolie. I was obsessed with her for a minute, and all her Tomb Raider movies. She's getting old and fragile—she'll need a stunt double.
So do you get injured all the time? I've had black eyes, a bloody nose—the works. I get whiplash a lot, and I have a few bruises on myself right now...but it's definitely worth it. I'm gonna knock on some wood right now.
More from Jackie
"I go to the Cock every once in a while. It's pretty tragic there, though. And disgusting. But amazing, also. I'll go there and dance for hours."
"I've been having fun with colors recently. I go for whatever my girlfriend has in her cupboard—she has a full cabinet of Manic Panic. Her hair is Fuchsia Shock right now."
"In my show right now, I was fitted by a professional stunt coordinator in Hollywood for this thing called the jerk vest. It's like in movies when there's an explosion and someone flies backward. I have wires connected to me and people tug at me and I go flying ten feet through the air backward, like an explosion just happened."