Public eye: Kalle Lind, 31
North 6th St between Bedford Ave and Berry St, Williamsburg, Brooklyn.
By Kate Lowenstein Mon Nov 29 2010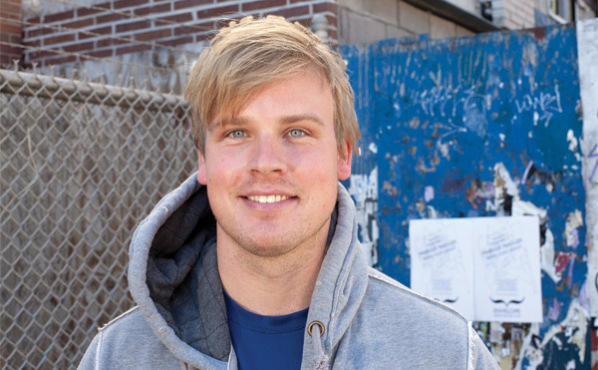 Kalle Lind, 31, North 6th St between Bedford Ave and Berry St, Williamsburg, Brooklyn Photograph: Jay Muhlin
So does everyone say they know your name from— The Girl with the Dragon Tattoo? Yeah. That's helped me a lot! It's a really common Swedish nickname.
What are you up to? I'm waiting for my wife and one-month-old son. They're just getting coffee.
One month! What's new fatherhood like? It's beautiful to have your own son. He resembles me and my wife, and he's adorable and we love him. But I can't wait for him to grow up and start articulating his thoughts.
Well, you'd better put the pressure on him. Maybe he'll start faster. [Laughs] I won't do that. He's cute already, but he just basically kicks you and throws up and cries a lot. He can't really talk, he poops himself. He's like a drunk.
Cute. What do you do? I'm a page on The Late Show with David Letterman. Ever since I got to New York I've been applying to the major networks. I just happened to stumble on an ad online saying POPULAR TV SHOW LOOKING FOR PAGES. So I sent my rsum and worked really hard to get them to notice me.
Did you wear head-to-toe sweats to the interview? [Laughs] You have to adapt to the situation, see. I felt that it needed more of a suit-and-tie kind of thing.
Do you have any interaction with Letterman himself? Yeah, he says hi, and jokes with his staff.
He does more than that with his staff. [Laughs] I think he said what he felt he needed to say about that.
More from Kalle
"We're only 9 million people in Sweden, so we have to be really loud and tell people we're great if we want to stay afloat."
"After I graduated, I worked at a food-processing plant, just to get money. It was pretty gross. It's messy, you get it all over yourself. Tomato sauce in huge amounts is disgusting."
"Having a child is just an addition to what we already have—it's not going to change us in any fundamental way. We try to keep living our lives. We go out and eat; he actually likes hanging out in restaurants, he falls asleep from the sound. We take walks, we get into the city. We make a point of not being prisoners at all."