Public eye: Lizzie Curran, 22
North 5th St between Bedford and Driggs Aves, Williamsburg, Brooklyn.
By Kate Lowenstein Fri Nov 19 2010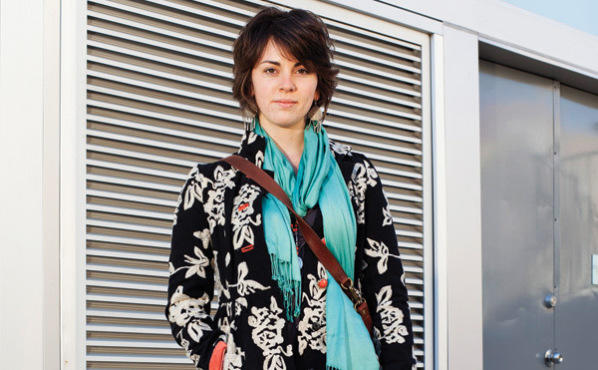 What does the world look like to you, freshly out of college? Um, I'm not sure yet. I'm living with my mom, which isn't bad because I live on a horse farm that's very beautiful. I always think, Why do I ever want to leave? And then I'm like, Oh yeah, because I live with my mom. I should probably leave.
Where are you from? Concord, Massachusetts. Home of the Revolution!
So did you grow up swimming in Walden Pond and shit? Well, tourists swim in Walden Pond, so no one goes there. It actually has a bacteria problem. But there's a swimming hole by my house, and there's a rope swing hanging off a tree.... It's like a bad movie.
Man. I bet you reenacted Little Women scenes, too. You have the first name and everything. No, I didn't do that. But because my family is super WASPy, there are, like, three or four Elizabeths and we all go by something different: Leah, Betty, Lizzie... And then there are all the Williams, and they're all Bill and Billy and Liam.
Any Fritzes or Biffs? [Laughs] No, no no no. Not that WASPy.
Are you, like, stiff-upper-lip types? No, I dunno. There are a lot of formalities in my family. And in school when I'd ask a good friend how my outfit was, she'd be like, "You look really Massachusetts." See, if I'm not thinking about it, I'll be like, Well, I'm just gonna wear my polo shirt. [Laughs]
You just can't help it. Your name is Lizzie. Yeah! See? It's ingrained.
More from Lizzie
"I went to Bennington College. If you weren't doing art, no one was sure why you were there. I did drawing and painting."
"At Bennington, I got used to everything being very forward-thinking and super arty—almost unrelatably arty. When I'm in New York, I feel that again and I get so excited."
"On Thanksgiving, we usually watch Pieces of April, that Katie Holmes movie. Oh my God, it's, like, one of the only Thanksgiving movies I know. [Laughs] It's a little intense for family; there's one sex scene, which we always talk through so it doesn't get uncomfortable. So we watch that and eat pumpkin pie together. It's really nice."