Ragtime
The musical is revived this October.
By Time Out editors Tue Aug 25 2009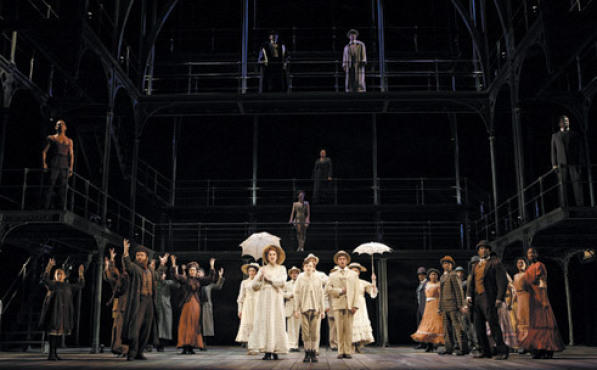 Time Out Ratings :
<strong>Rating: </strong>0/5
Book writer Terrence McNally's unwieldy script remains Ragtime's weakest link. But Ahrens believes America has grown into the musical. "It feels much timelier in a certain way," she says. "It's set at the beginning of the last century, in this time of terrific flux. Here we are at the beginning of this century, and all the same issues that are in the show are on our front page."—Adam Feldman
Our 1998 review: "It's a little disconcerting to go into Livent's new theater on Broadway and hear ushers hawking drinks, programs and CDs in the aisles. The gleaming, plush building--complete with a Livent theater store conveniently located in the atrium lobby--resembles a Midwestern civic auditorium more than a jewel-box theater in New York."
2009: The revival will be in the Neil Simon Theatre, built in 1927, with roughly 400 fewer seats than the Livent theater. "It feels of the period, and that's what's beautiful about it," says Ragtime's lyricist, Lynn Ahrens.
1998: "Ragtime, the theater's debut production, is based on E.I. Doctorow's novel. The ambitious turn-of-the century epic musical, full of confidence and talent, has been deftly staged by Frank Galati. The music and lyrics, by Stephen Flahrety and Lynn Ahren, are rooted in the ragtime tradition, and though at times beautiful, the sound is far slicker than anything Scott Joplin had in mind."
2009: Ragtime's strong, melodic score (by Ahrens and composer Stephen Flaherty) has aged gracefully and accounts for much of the musical's continued appeal. And that score will be well served. "We're using a full 28-piece orchestra," boasts the revival's director, Marcia Milgrom Dodge.
1998: "All the elements are in place for Ragtime to be a theatrical TKO (and this show's accessibility and good looks will surely make it a success), but behind all the glitz and glamour, there's a decided coldness and lack of real emotion coming from the stage....Adapter Terrence McNally has many of the characters speak directly to the audience in the third person, an awkward device. The tapestry design of the book is innately complex and fragmented, but it has been transferred to the stage with a jarring jump-cut style; the result is both emotionally manipulative and distancing."—Sydney Weinberg
2009: Ragtime had a respectable two-year run, but was not the mammoth hit many expected. Director Dodge sees the smaller stage as chance to zoom in to the musical more intimately. "In the original, things were literal; they had a real Model T onstage," she notes. "Our version is much more impressionistic, and it puts the characters much more front and center."
Neil Simon Theatre. Previews Oct 23, opens Nov 15; $46.50--$126.
---
BACK TO MAIN PAGE
Fall Preview 2009
There's something--no, a zillion things--to look forward to this coming season.