Randy Stulberg, 26
By Time Out editors Thu Aug 10 2006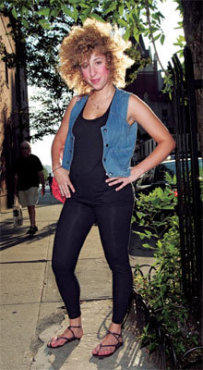 Randy Stulberg Photograph by Donald Bowers
OCCUPATION: Documentary filmmaker
WHAT ARE YOU WORKING ON NOW? "My brother and I are making a film called Off the Grid. It's about a community of veterans from the first Gulf War and Vietnam, and anarchists, outlaws and teenage runaways who have dropped out of society and are living off the grid in the American Southwest. They have their own vigilante justice system, kind of like a postmodern Mad Max. They call themselves the largest free-range insane asylum in America."
HOW'S WORKING WITH YOUR BROTHER? "We're best friends. We've always been super-duper close. We have an Indiana Jones complex—we like to adventure around the world and make films."
HOMETOWN: "New York, all my life. My family's been in Brooklyn and the Bronx since 1885."
THE LOOK: "I think of my clothes as a costume. I'm a Gemini, so I'm always changing my mind. I like to be flamboyant and have fun with it. It's an art."
"I got the vest from a stylist who I was working with a long time ago. It was hers and she gave it to me. The shoes were a gift from a friend. And the pants? I got 'em from some sports store. I think it was Modell's."
If you don't gallivant with stylists, get your own denim vest at Built by Wendy (70 Centre Market Pl, 212-925-6538), where they cost $73.
--Market editor Kristina Dechter, edited by Kate Lowenstein