Recreational sports
Swing (or kick) for the fences with one of these amateur leagues.
By Sarah Rammos Mon Apr 11 2011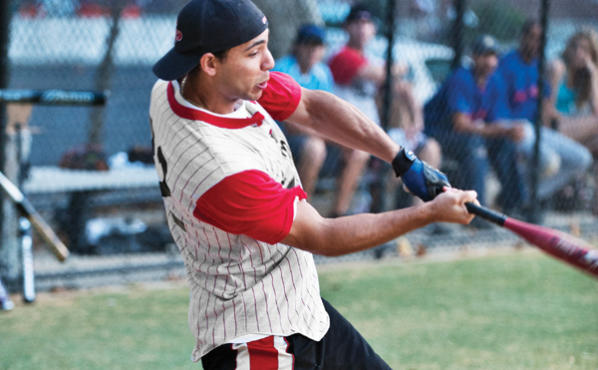 Yorkville Sports Association Softball Photograph: Michael Soluri
92nd Street Y Adult Coed Softball
This league's teams get the added bonus of playing on one of the most iconic fields in the city: Central Park's Great Lawn. In addition to umpire and field fees for ten Sunday afternoon bouts, your sign-up cost also covers team jerseys and hats. After the regular season, MVPs from each team will be invited to compete for added glory in the league's all-star game. Great Lawn Field No. 2, Central Park, enter at Fifth Ave and E 80th St (212-415-5714, 92y.org). $175, 92nd Street Y members $115. Registration is open now; games begin May 8.
NYC Metro Sports Softball
Gather your sporty coworkers, since almost all of the teams here are corporate-sponsored. The fees for each squad cover the costs of playing on fields throughout the city, including Queensbridge Oval and Manhattan's Hudson River Park. Games in the competitive divisions can get heated, so if you have an office of newbies, you may want to consider the Just for Fun league. Location varies; visit nycmetrosports.com for details. Per team $1,300. Registration opens Fri 15; games begin June 1.
World Adult Kickball Association
This national organization boasts more than 80 teams in New York City. Its members are notoriously dedicated, and you'll go up against every team in your league, so newer players have the chance to improve their skills when facing off against veterans. Less-formal pickup games on the weekend provide an opportunity for low-stakes practice. Location varies; visit nyc.kickball.com for details. $77. Registration and start dates vary.
Yorkville Sports Association Softball
Individuals looking for a YSA team can show off their skills in an open scrimmage before each season, in hopes of getting drafted onto one of the 233 NYC clubs. Each roster can fit up to 23 players, and players' ages range from early twenties to midforties. Players head to Village Pourhouse's three NYC locales for official postgame celebrations. Location varies; visit ysaleagues.com for details. Per team $2,095--$2,595. Summer registration is open now; games begin May 16.
ZogSports Softball
Zog's coed teams face off in six to eight games per season in parks that include Randalls Island, Central Park and Roosevelt Island. A happy hour after each match gives you a chance to drink with your opponents, and each bar donates 10 to 15 percent of the bill to your squad's charity of choice (since 2002, the league has raised more than $1 million). Zog also hosts kickball leagues through the spring and summer. Location varies; visit zogsports.org for details. Per player $150, before Sat 16 $140; per team $1,750, before Sat 16 $1,650. Session 1 registration is open now; games begin May 15. Session 2 registration opens Apr 25; games begin June 15 and June 20.
Brooklyn Kickball
Kickball gets a bad rap as a hipster sport—but this league is made up of mostly young professionals from doctors and teachers to bar and restaurant workers. Each team is required to have a minimum of 14 players, and out of the ten on the field at a time, four must be women. Games on Tuesday nights were added recently to relieve some of the crowds at the regular Sunday matches. If you're looking for a team, join the free agent list on the group's website, e-mail brooklynkickball@gmail.com, or just show up on Tuesday and see if a spot is available—teams with no-shows are required to draft a temporary player to compete. Patrolman Gilroy Field, McCarren Park, Lorimer St between Bedford and Driggs Aves (brooklynkickball.com). Per team Sunday league $1,000; per team Tuesday league $800. Games begin May 1.