Robert J. Sloan, 34
Lafayette St at White St
By Time Out editors Wed Feb 20 2008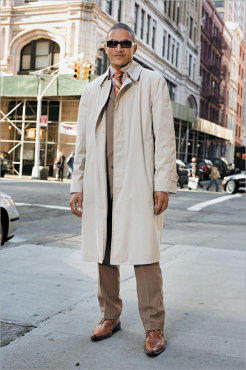 Robert J. Sloan
Photograph: Jay Muhlin
Do you work around here? Yes. I'm a court liaison for the Administration for Children's Services. I'm the middle guy between the judge and the clients—you know, people filing for visitation, custody, orders of protection....
Mama drama. Exactly. A lot of people don't know what family court is. When people ask, I tell them it's the place where Britney Spears would be if she lived in New York. Before that, I investigated child sex abuse and drug cases for the city.
Man. Did you see a lot of changes after the whole Nixzmary Brown debacle? Yes, and it's still changing. Everyone always wants to point a finger. It's a very hard job, going all over the city knocking on the doors of people who don't want to cooperate.
You're brave. [Laughs] Or just crazy. Also, I have a second life: I moonlight as manager of the flagship Victoria's Secret store at Herald Square.
[Editor's note: 34B The average bra size sold at the Victoria's Secret on 34th Street.]
Wait, what? How do you go from child abuse to bras? I know, hello! But it's exciting and not so serious. Well, you wouldn't believe how seriously they take bras and panties—but it's not life and death like the other job is.
Though I imagine there's danger in telling a woman she's a size extra-large and not a medium. [Laughs] Absolutely. Guys always say, "Oh, that's a dream job!" But trying to please a woman can definitely give you a headache. As for sizes, I don't do fittings.
Do you wish you did fittings? Kate! My goodness. No, I don't.
More thoughts from Robert
"I read the Bible every day. It's a challenge—not like the trash that gets put out nowadays. I've read the Bible all my life and I plan on doing that forever."
"I get a manicure almost once a week. It's a guilty pleasure. I'm a strong believer in the idea that if you look good, you feel good."
"My barber is one of the best in the whole world. He's Ray, at Ray's Barber Shop (125 Chambers St between West Broadway and Church St, 212-791-3111). His cutting is out of this world, and he also happens to be a very genuine person."
—Kate Lowenstein