Rummaging for...furniture & home decor
Shop-hopping interior designer Rayman Boozer reveals his favorite resources for the home front.
By Helen Yun Wed Apr 9 2008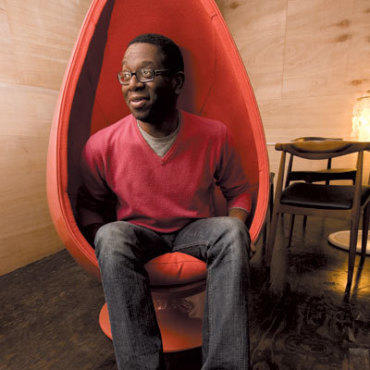 Rayman Boozer
When he's not trolling the city in search of inspiration for his upcoming, yet-to-be-named textiles line, decor maven Rayman Boozer is mining the retail market for chic, wallet-friendly wares to fill his home-goods shop, Apartment 48. And though the 47-year-old East Village denizen works on posh Hamptons summer houses, he also frequents these insidery spots in order to help clients on a budget adorn their studio apartments.
"I'm all about colorful pieces that have the most personality in the room."
—Rayman Boozer, interior designer
Photograph: Dave Sanders
ANC Asian Home
"I come here all the time for clients," says Boozer of the jam-packed Chinese antiques and vintage-reproductions depot. "I love all the painted furniture because it mixes really well with modern and traditional items, and it's not crazy, rich-people stuff." After marveling over the cracked, faux-aged finish on a red étagère, Boozer gravitates toward a turquoise sideboard that's tagged at $1,680. "You would pay at least $4,000 for this at a regular furniture store. My favorite thing about this place is the price."
10 W 18th St between Fifth and Sixth Aves (212-366-1162)
Photograph: Dave Sanders
Room & Board
Hit this chain for its well-crafted couches, many of which are scaled down for small spaces and priced around $1,000. "They're nice, simple and neutral—which is what you want in a sofa, since you're going to have it for years."
105 Wooster St between Prince and Spring Sts (212-334-4343, roomandboard.com)
1850 hand-colored wood engravings, $30 each at Pageant Book & Print Shop
Photograph: Shani Bar-On
Pageant Book & Print Shop
Boozer often browses the thousands of archival illustrations, lithographs and ephemera crammed into this family-run nook, where you can score prints for as low as a buck each.
69 E 4th St between Bowery and Second Ave (212-674-5296, pageantbooks.com)
Photograph: Dave Sanders
Purl Patchwork
The interior designer's go-to spot when he needs to whip up inexpensive curtains, this neatly organized textile den abounds with cheery Technicolor designs ($6–$36 per yard). "I love bold '60s prints for a kid's room," Boozer gushes, holding a Marcia Brady–esque bolt. "And they sell fabric remnants that are just the right size to make a throw pillow."
147 Sullivan St between W Houston and Prince Sts (212-420-8798, purlsoho.com)
1850 hand-colored wood engravings, $30 each at Pageant Book & Print Shop
Photograph: Shani Bar-On
White Furniture
Midcentury designs may tend to have an austere look, but Boozer argues that they can easily be mixed with other styles, especially when they're made with warm woods like the goods here. Boozer hits White for its nicely priced Saarinen, Eames and Jacobsen doppelgängers, especially items like the petal-shaped Swan chairs, which cost a mere $500, as opposed to reproductions that run for around $5,000 elsewhere.
85 White St between Broadway and Lafayette St (646-289-5004, whitefurniture85.com)