Saige Stuto, 23
Sixth Ave between 21st and 22nd Sts
By Time Out editors Wed Jul 25 2007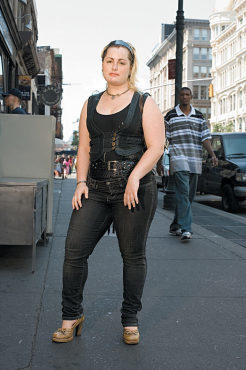 Saige Stuto
Photograph by Jay Muhlin
"This piercing is called the Monroe, as in Marilyn. Some people call it the Madonna, but I prefer the more historical one."
Saige—as in wise person, except misspelled? Yeah. It's not my real name. I picked it when I was, like, 15 and wanted a club-kid name. But I think I might want you to publish Contessa instead. That's my more feminine, madam name.
So what are you, madam or club kid? [Laughs] Neither. Both. I'm just...fabulous.
What's your given name? Jennifer Lynn. I go by Saige-ifer sometimes to make my mom happy.
Where do you live? Bushwick, right now. I've always lived in either Bed-Stuy or Bushwick. I love the culture and the energy there. And the hugeness of the apartments!
Ever get flak for being part of the gentrification wave? No. I don't think I'm part of it...though I guess I very well may be. I'm about to move into a privately owned house in Bed-Stuy where the owner happens to be a black male. He didn't have to choose me as a tenant. It's not like I'm moving into a renovated condominium.
What do you do? I'm an aspiring celebrity stylist.
Got your eye on dressing any particular famous person? Well, it's more that I wanna be a celebrity myself.
I see. So if you were a celebrity, who would you be? Everyone always says I look like Kelly Osbourne. And my hairstylist actually thought Kelly Osbourne was me when she walked into her salon a few months ago.
So Kelly gets mistaken for Saige, I mean Contessa. Yeah, sometimes. I even hear people whispering on the street because they think I'm her. I used to hate it when I was younger, but now I think it's kinda funny.--Kate Lowenstein