Sail into the New Year
An armada of boat parties awaits those who want to take in the Manhattan skyline and fireworks-while enjoying an open bar.
By Jonathan Shannon Tue Dec 16 2008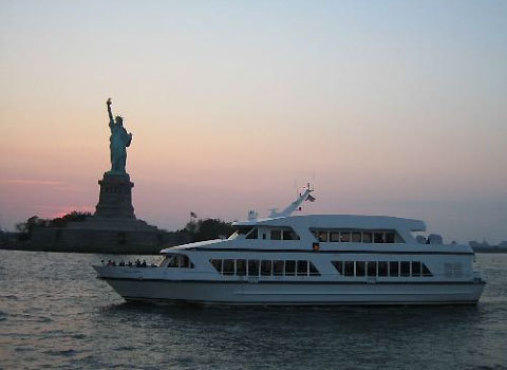 Cloud Nine
Affairs Afloat
It's a clubby, party vibe aboard The Queen of Hearts and passage includes all you can drink until the champagne toast at midnight. The revelry continues dockside after 1am and is accompanied by a complimentary continental breakfast. 40 N River Piers at West Houston Street and West Side Highway. Subway: 1, 9 to West Houston. $126. 9pm--1am, embarks 10pm. Click to buy tix.
The Temptress
This multi-level, 160' yacht will be the grandest of all boats on the water that evening (out of those you can pay to play on, that is). Perks a killer view of the pyrotechnics at midnight and the pleasure of sashaying up and down the swank double staircase to the dance floor all night long. Pier 81 at W 41st St and Twelfth Ave. Subway: A, C, E to 42nd St–Port Authority Bus Terminal. $195. 8pm–4am, embarks 10:30pm. Click to buy tix.
Paddle Wheel Queen
This old-fashioned riverboat may move lazily on the water but the Mardi Gras-themed fete inside should be more frenetic. For those who want to keep the fun going, take advantage of the complimentary entry to "The Official After Party for NYE-09" (starting at 3am). But may we also suggest fueling up on the free onboard buffet first, before the evening runs aground. Skyport Marina, FDR Dr at E 23rd St. Subway: 6 to 23rd St. $175, seated VIP $195. 9pm–2am, embarks 10pm. Click to buy tix.
Cloud Nine
If being three sheets to the wind on a rocking dance floor is not your thing, this jackets-required sit down dinner may be. Despite the pretense, it probably offers the best value on the water with free drinks for the duration of the five-hour cruise and a four-course seated meal including black angus prime rib or baked Norwegian salmon for $199. Skyport Marina, FDR Dr at E 23rd St. Subway: 6 to 23rd St. $199. 9pm–2am, boarding 8:30pm. Click to buy tix.
City Lights Cruise
A sedate, yet sophisticated option is the Atlantica, The reserved-seating dinner-dance cruise wraps up at 1am, but that's still plenty of time to enjoy passed hors d'ouevres, a three-course meal featuring grilled skirt steak with chimichurri sauce, and a DJ spinning salsa faves mixed with Sinatra. Pier 17N, South Street Seaport, Fulton St at Water St. Subway: A, C to Broadway–Nassau St; J, M, Z, 2, 3, 4, 5 to Fulton St. $217, first 100 tickets $189.65. 9pm–1am, boarding 8:30pm. Click to buy tix.
Big parties, smaller crowds>>
Stay far from the maddening throngs at these more "intimate" fetes.