Sebnem Senyener, 47
Broadway between Broome and Spring Sts
By Time Out editors Wed Aug 15 2007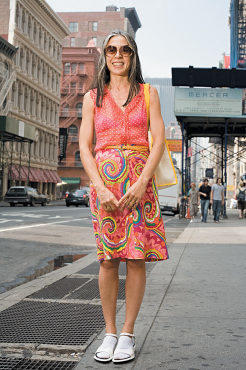 Sebnem Senyener
Photograph by Jay Muhlin
"I like wearing ankle socks with sandals. It's kind of an old trend."
Where are you from? Istanbul. I've been in New York since 1982.
What do you do? I was a journalist, and now I write novels.
Why'd you give up journalism? There were a lot of political problems in Turkey—I had a lot of friends in jail. In 1998 we did a campaign for the release of my former managing editor. That caused a big law change; 80 other journalists were released. But then I was working for my third paper, and the owner was tried for corruption. At that point I said, You know what? This career isn't going to go any further.
What are your novels about? I write mysteries. They're sort of art-related. This last one is about a painting called L'Origine du monde—
That wonderfully scandalous one by Gustave Courbet, right? Yes! It's a life-size painting of a naked woman bellow the belly, legs wide open, showing a moment of, shall we say, juissance?
Postorgasm, in other words. Yes. So it was painted in 1866 for an Ottoman diplomat, who covered it and kept it in his dressing room. It wasn't viewed by the public until a feminist curator, Linda Nochlin, put it in a show at the Brooklyn Museum in 1987. My story starts there—with a belly dancer at the opening exhibition, later found dead.
Ooh, sounds dark. And yet, you look so happy and upbeat! [Laughs] I think you just got lucky, bumping into me at the right moment.
Or maybe it's just your skirt. Are you celebrating neopsychedelia? Yes, exactly. I love these color schemes.
Does anyone ever call you a Turkish delight? [Laughs] That's sweet. Um, I guess I should say yes to that question. Sometimes my husband does!--Kate Lowenstein