September 2013 events calendar for New York City
Plan your month with our events calendar of the very best activities, including Labor Day activities and our picks from theater, the arts and music.
Photograph: Syd London
Top ten events from Time Out's events calendar for September 2013
Featured events in September 2013
---
Free events in September 2013
---
This Brooklyn beer tavern kick-starts the Oktoberfest celebrations on Sat 21 with a pig roast, live music from polka outfit Das Booty and Gypsy-punks Bad Buka, celebratory keg tappings and a mug-hoisting competition (simply buy a $13 mug of beer to compete). On Tue 24 and Oct 1, booze like a true trinker with a $15 four-beer tasting, featuring liter-sized mugs of Hofstetten Original Hochzeitsbier von 1810, Hacker-Pschorr and Erdinger.
The '21' Club may be an American icon, but it's strapping on its lederhosen for Germany's 16-day beerfest. Bar 21 will offer lunch specials like beer-braised bratwurst on pretzel rolls ($19), sausage-and-sauerkraut fritters ($14) and Wiesn hendl (roasted chicken, $23), as well as Oktoberfest beers including Warsteiner, Hofbräu and Colorado's Left Hand Oktoberfest ($8.50 each).
Bar 21 21 W 52nd St, between Fifth and Sixth Aves, 10019
Until Thu Oct 31
More info
This Upper East Side institution has been dishing out family-style specialties to celebrate the Bavarian holiday since 1964. On offer are Oktoberfest specials like the Stammtisch Plate, a feast that includes Schweinshaxe (roasted pork shank), Leberkaese (German meat loaf), Black Forest bacon and boiled potatoes ($152). Dinkelacker beer is on tap ($5.50 for a half-liter), and if you still have room left for dessert, there's Palatschnike—pancakes rolled up with marmalade or Nutella ($10).
Heidelberg Restaurant 1648 Second Ave, between 85th and 86th Sts, 10028
Until Thu Oct 31
More info
See all Oktoberfest 2013 events
---
Theater events in September 2013
---
Music events in September 2013
---
Arts events in September 2013
Price band: 2/4
Critics choice
In celebration of its tenth anniversary, the festival offers two free evenings at Central Park's Delacorte Theater in addition to its annual mixed-bill programs at City Center. This year highlights two commissions: a duet by Justin Peck featuring NYCB's Sara Mearns and the Royal Ballet in a pas de deux by Liam Scarlett. Additional performances include New York City Ballet, American Ballet Theatre, Paul Taylor Dance Company, Dance Theatre of Harlem, the Richard Alston Dance Company and more.
Price band: 2/4
Critics choice
Although somewhat younger (and WASPier) then the Abstract Expressionists he associated with, Robert Motherwell was a noted figure of The New York School (a term which he, in fact, coined), thanks largely to his role in introducing his peers to "automatic" drawing—a concept he'd picked up from the Surrealists on his travels to Europe. The Gugg offers up a choice selection from the first decade of his output, during the years in which he helped to lay the foundation for New York's art world ascendancy.
Price band: 2/4
Critics choice
Balthus (neé Balthasar Klossowski, 1908–2001) was one of the most controversial figurative painters of the 20th Century, an artist notorious for frankly erotic (if not somewhat pervy) full-length renderings of Lolita-esque subjects. This show, the first major Balthus exhibition in the U.S. in 30 years features 35 canvases, dating from the mid-1930s to the 1950s.
Price band: 2/4
Critics choice
One of the titanic names of 20th art—and certainly one of the most popular and recognizable—René Magritte (1898–1967) is synonymous with a specific vision in which our experience of the ordinary is thrown into doubt. This retrospective focuses on the years 1925 to 1938, the period when he developed his iconic style, which whatever its continued appeal, spoke eloquently of its time: the uneasy interlude between world wars.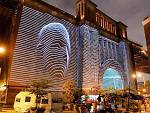 Dumbo Arts Festival
Area landmarks within the stylish 'hood will provide oversize canvases for digital artworks, interactive pieces, performances and outdoor installations during this design fair.
Various locations
Late September
---
You might also like
---