Sex and the City strikes back
As the movie nears, the love-hate saga drags on.
By Time Out editors Wed May 14 2008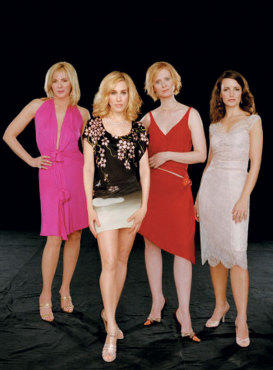 With the release of Sex and the City: The Movie and the set-invading coverage of its filming, New Yorkers have been confronted with a four-year-old, sequined skeleton in their closet (and it's clutching a Marc Jacobs tote, natch). Whether you've been snapping photos of the filming locations and sending them to the gossip blogs or you curse the Carrie-fication of this city and pine for the schlumpy days of Seinfeld, we can all agree SATC transformed the image of New York City inside and out. If you're anything like us, you hate it. And you love it. Here's why.
Our crazy cover
I love the show
| | |
| --- | --- |
| | Sloppy seconds: Are you still going to the tired hangouts mentioned in Sex and the City way back when? We'll help you update your obsession. |
| | Poll: But who is the fairest of them all?: In its six seasons, Sex and the City presented its share of Prince Charming candidates. Which ones would you want waking you from a deep slumber? (We get dibs on Maria.) |
| | Julia Allison on SATC's appeal: Our neo-Carrie presents her love letter to the show. |
I hate the show