Shea Prueger, 20
By Time Out editors Thu Aug 31 2006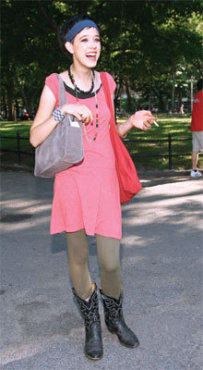 Shea Prueger Photograph by Donald Bowers
OCCUPATION: "I cut hair at Arrojo Studio."
YOU DON'T HAVE MUCH HAIR OF YOUR OWN. "I like short hair—and men's cuts—a lot. A year ago my hair was really long and blond. I'd bleached it so much that it was dead."
NATIVE NEW YORKER? "No, I'm from Iowa, but I'm never going to live there again. It's not just that it's slow—I find it close-minded and regressive."
WHERE'S YOUR NAME FROM? "It's Irish, but I'm not. My mom knew an old lady named Shea and she liked it."
ANYONE CALL YOU SHEA BUTTER? "All the time. All my gay friends do."
THOUGHTS ON THE SMOKING BAN? "It's probably good. I don't like that I smoke; I just do when I get stressed-out."
"I don't remember where I got this dress. I usually buy my clothes from thrift stores in the Midwest. I have an attitude that I can pull whatever off, so I try to do that."
Pull off your own T-shirt--dress look at American Apparel (americanapparelstore.com), where cotton jersey dresses are $26.
--Market editor Kristina Dechter, edited by Kate Lowenstein