Sherry Warren
71st St and Madison Ave
By Time Out editors Wed Mar 5 2008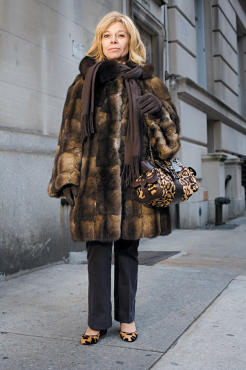 Photograph: Jay Muhlin
Are you window-shopping?
A little bit.... I love Madison Avenue. I'm on my way to look at an apartment on 74th and Fifth.
Prime real estate! Have the insane prices dipped at all?
I don't think so. But six months ago, people would offer full price three seconds after walking into an apartment, and then there'd be all this overbidding. That's not happening as much.
Do you currently live in this 'hood?
Yes. I just adore it.
You don't tire of the hoity-toity Upper East Side air?
You know, I don't get into it. I use the park, go to the museums, the zoo—I love the animals—
Which are very well represented on your person. No conflict there? Or fear of PETA attacks?
[Laughs] Thank goodness, they've never attacked me. I love animals, but I have a circulation problem: Raynaud's syndrome. Fur is the only thing that keeps me warm.
[Editors note: $1 billion The amount of money made by the U.S. fur industry annually. In the '80s, it twice that amount.
How old are you?
Can you keep a secret? [Laughs]
No! So forget it. What do you do?
I manufacture boxes.
Boxes? The things you never think about...
[Laughs] I know! I bought Prestige box corporation in 1978. In those days, a woman in business was unheard of. Once, I was flown to Georgia to meet the board of a large company, and as they filed into the conference room, they all started giving me coffee orders! When I was introduced as the person they were there to meet, every face in the room turned absolutely scarlet.
Are you famous in the box world?
I'm well known. I'm like an antique.
—Kate Lowenstein
More thoughts from Sherry
"This coat is sable. The shoes and bag are real leopard-skin—they're Christian Louboutin. I don't like wearing things with brands on them—I don't want to scream a name like that."
"I played piano for about 15 years. As kids, my sister and I had a show on twin pianos at Carnegie Hall. I was five and she was nine. I had no understanding of how important the venue was. I just remember getting onstage and wondering if I could reach the pedals on that great, big baby grand."
Sherry says: "I eat out every night; I've probably been to every restaurant in the city. I really like Nobu. And I never have trouble getting a reservation. I was there last week with my daughter without reservations, and they just led us right to a table. I was shocked."