Shirley Dluginski
Thompson St at W Houston St
By Kate Lowenstein Wed Nov 19 2008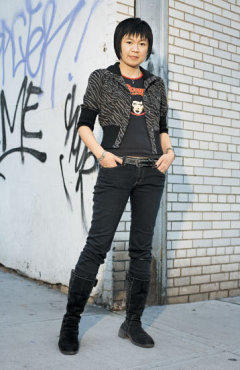 Photograph: Jay Muhlin
What do you do?
I'm a band photographer and travel consultant, though I just came from a music video shoot with Band of Thieves. I was one of the dancers.
Between that and this interview, that's, like, 30 minutes of fame this week.
[Laughs] It seems to come in spurts. I was also an extra in an ESPN commercial recently.
Trying to work your way into the spotlight?
Definitely. A couple months ago, I was a featured extra in a BMW commercial.
You're a travel agent, too?
I investigate. It's a customer service thing.
You're the Sherlock Holmes of tourism.
Yeah. I have some serious cases, but the majority are just concerns—like the sheets weren't clean. The stories I hear are pretty frightening.
So you don't sit on hotel bedspreads?
I think twice about it.
How old are you?
I don't want to disclose it, but I'm in my thirties. I don't want to scare my friends.
Are you a platonic cradle-robber?
Sometimes I am. The crowds I hang around are younger...I don't want to shock them.
Where are you from?
I was born in Hong Kong and my parents moved to the Lower East Side when I was a little over a year old.
Dluginski doesn't sound at all Chinese.
Yeah, I was married once. This way when I go to job interviews they expect a little Polish lady, and then, here I am! Chinese! It's funny.
More from Shirley:
"I'm a flirtatious person. I approach anybody and crack jokes. That's how I introduced myself to the bands I work with. Next thing you know, I'm learning about their other projects and getting involved. It's like living Facebook in reality."
"When I was growing up, the Lower East Side was dark and dangerous. I once saw a woman carrying her child and buying drugs at the same time, right on Clinton Street. That's just how it was then. It was freakish."
"I think I've photographed about 30 bands in the last three years. I get beer spilled on me, guitars tapped on my lens, but I have fun. Sometimes I stop and dance too."