Shopping staycations
By Laura Neilson Tue Aug 11 2009
Shopping staycations
---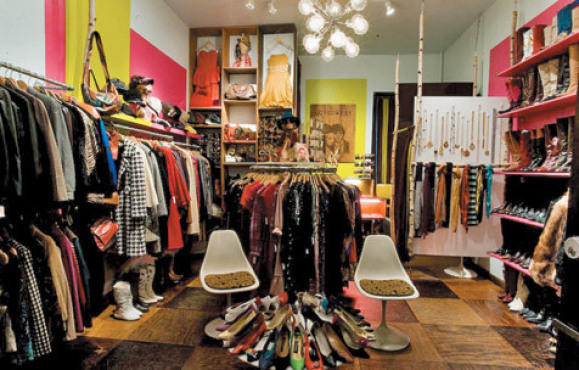 LoveDay 31
RECOMMENDED: Our most recent Staycation Guide
If you have an afternoon
For anyone who's lived in New York City long enough, a chunk of time at the mall sounds fantastically novel—and crazy convenient: food, clothes, massage chairs and a wishing fountain, all in one place! At the mammoth
Queens Center Mall
(90-15 Queens Blvd at Woodhaven Blvd, Elmhurst, Queens; 718-592-3900, shopqueenscenter.com),
you'll find four levels, 150-plus stores, 23 eateries and dozens of mall speed-walkers—all great reasons to play suburbanite for an afternoon. Scour the sales racks at the usual suspects like Club Monaco, Victoria's Secret and Forever 21. There aren't any tanning parlors (not that we'd recommend such a thing), but you can still return from your staycation a new person: Bleach your teeth at Spa White (second floor), buy a septum ring at Piercing Pagoda (third floor) or get inked at the newly opened Tattoo Nation on the lower level.
If you have a day
Astoria could pass as Athens for a New Yorker with an active imagination. Pick up decorative photo frames (from $5) or midcentury table lamps ($40--$60) at secondhand store
The Furniture Market
(22-08 Astoria Blvd at 22nd St, Astoria, Queens; 718-545-3935)
before strolling over to
Taverna Kyclades
(33-07 Ditmars Blvd at 23rd St; 718-545-8666, tavernakyclades.com)
for a hefty Greek-spiced burger and fries ($13.25). Then browse the colorful racks at
LoveDay 31
(33-06 31st Ave at 33rd St; 718-728-4057, loveday31.com),
an excellent alternative to Manhattan's pricey vintage shops, where most clothing items top out at $100. Next, hit
Site
(35-11 34th Ave at 35th St; 718-626-6030, sitedesignnyc.com)
for novelties like chalkboard wall stickers (from $38) and ASTORIA doorknocker earrings ($46). Before heading home, pop into
Titan Foods
(25-56 31st St at Astoria Blvd; 718-626-7771, titanfood.com)
to fill what space remains in your tote with Greek foods like
manouri
cheese ($7 per pound) and
taramosalata
caviar spread ($3.50) so you can relive your trip long after it's over.
If you have a weekend
Spend the cash saved on airfare at the lustrous new
Standard Hotel
(848 Washington St at 13th St; 212-645-4646, standardhotels.com; from $300),
where most rooms have outstanding views of the Hudson. The Meatpacking District is teeming with high-fashion labels, but amid the McQueen, McCartney and Helmut Lang, you'll also find more affordable shops like
Plenty by Tracy Reese
(641 Hudson St between Gansevoort and Horatio Sts; 212-807-0505, tracyreese.com),
the designer's lower-priced line (items start at $70, and dresses hover around $175). Grab a lobster roll ($16.95) from Chelsea Market's
Lobster Place
(75 Ninth Ave between 15th and 16th Sts; 212-255-5672, lobsterplace.com)
and let food delirium take over while people-watching on the
High Line
(thehighline.org)
. After perusing limited-edition gear at
Puma the Black Store
(421 W 14th St between Ninth Ave and Washington St; 212-206-0109, puma.com)
and activewear at
YoyaMart
(15 Gansevoort St between Hudson and W 4th Sts, 212-242-5511),
enjoy the sunset and a brew on the casual rooftop of
Brass Monkey
(55 Little W 12th St at Tenth Ave; 212-675-6686, brassmonkeynyc.com).
Then flaunt your new threads at the Rewind Show at the
Highline Ballroom
(431 W 16th St between Ninth and Tenth Aves; 212-414-5994, highlineballroom.com; Sat 11pm, $20)
, a weekly party featuring a mash-up of live and recorded rock from the '80s through today. Do Sunday brunch alfresco at
Vento Trattoria
(675 Hudson St between 14th St and Ninth Ave, 212-699-2400),
and finish with a stroll up to
192 Books
(190 Tenth Ave between 21st and 22nd Sts, 212-255-4022)
to page through art tomes and summer reads like
Let the Great World Spin,
Colum McCann's moody ode to New York—you know, that place you forgot you never left.
---
BACK TO MAIN PAGE
New York City staycations
You need a summer break but don't have the days off? Save time by staying home!