Spin cycle
The Brooklyn Flea will host its first-ever Superstar DJ Record Fair on Sunday 14, featuring vinyl from more than ten local DJs and labels. Here's a look at what three of TONY's faves will be shilling.
By Andrew Parks Tue Sep 9 2008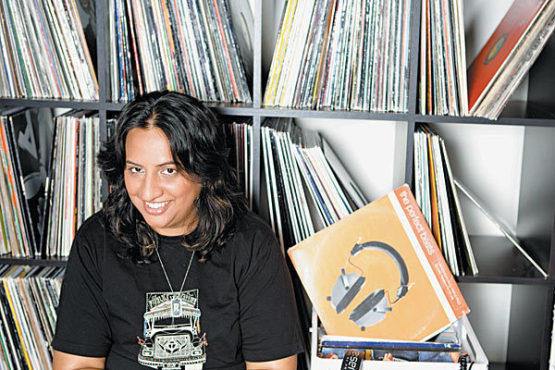 DJ Rekha

Koch/Basement Bhangra
In her crates: "When I started deejaying many moons ago, I played stuff like La Bouche, Le Click, Dr. Alban, deeper house cuts, and remixes on labels like Twisted and Tommy Boy Silver. I also did a party called Mutiny that was drum 'n' bass–inspired South Asian electronica, which caused me to amass stuff on labels like Hospital Records and Liquid Sky. And I have doubles of a bunch of hip-hop singles."
This record could be yours: The Perfect Beats, Vol. 2: New York Electro Hip-Hop +Underground Dance Classics 1980–1985 (Tommy Boy). "This brings back memories of listening to these tracks on the radio, wishing I were old enough to go to the clubs. It's a selection of freestyle new wave, including the one-hit wonder 'Set It Off.' I hope I don't need it at my future high-school reunion. The 'I.O.U.' track [by Freeze] gave School House Rock a run for its money. I wouldn't dare part with it if I hadn't imported the CD into my computer already."
DJ /rupture

Tigerbeat6, Soot, Soul Jazz, Dutty Artz
In his crates: "I'll be selling hip-hop and rap mostly from the late '90s and early '00s, dubstep, dancehall reggae, breakcore/noisy beats, reggaetón and some weird records—everything from ambient techno to ruthlessly experimental stuff."
This record could be yours: "My 'special record' is a type: white labels, which come out before the official release and don't have any artwork. Some great labels send me DJ promos, and I feel bad if it's not something I'll play out. But at the same time, I rarely give them away because they're rare, and rare vinyl brings out my hoarding tendencies. So I'll try to break that and let go of some dubstep/electronic white labels. The real rare stuff I keep for myself, of course."
Duane Harriott

Other Music employee, DJ of Negroclash
In his crates: "There will be a ton of '90s hip-hop for cheap, indie rock, some great '60s and '70s soul, lots of deep house, disco and '80s boogie. I've been collecting disco records for over 14 years now, so I have some goodies."
This record could be yours: Jan Leslie Holmes's "I'm Your Superman" (Jay Jay Records). "This is a rare roller-boogie R&B 12-inch from New Jersey. It sold for upwards of $300 on eBay a couple of years ago and is one of my favorite songs ever. I have doubles of this record, yet it still hurts to give one up. I'll probably have it for sale at the fair for a negotiable $70 price tag or trade."
LIKE THAT? TRY THESE!

The Music Memorabilia Show
at Tip Top Shoe Building, 155 W 72nd St at Broadway, fourth floor (212-579-0689, musiccollecting.com). Sat 13 10am–2pm, free.
The NYC Record and CD Show
at the Holiday Inn, 440 W 57th St between Ninth and Tenth Aves (973-209-6067, showsandexpos.com). Sept 20 10am–4pm, $6.
Share your thoughts