Staten Island peace tour
By Time Out editors Thu Apr 9 2009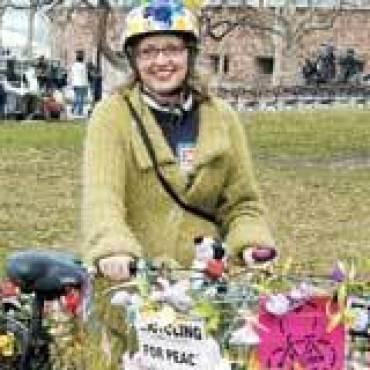 Meet your guide
Nadette Staa, 44, is a casting director, biking fanatic and six-year volunteer with cycling advocacy group Time's Up! (times-up.org). She decorates her wheels with flowers and tinsel, helps organize bike protests and leads regular rides to promote peace; the next one takes place in Manhattan on April 26.
About this ride
"Peace begins on a personal level, with peace of mind," says Stasa, who thinks it's important for serenity-seekers to escape the city for an afternoon. Accordingly, this 19-mile route begins at the Staten Island ferry.—Rebecca Dalzell
Scroll over each number to see route highlights. Pause to view multiple photos.
Photographs: Eric Harvey Brown
Biking directions
1. Coming off the ferry, stick to the left side of the lot and follow the shoreline, crossing through a waterfront park with a bounty of red buoys. You'll pass the future site of the National Lighthouse Museum.
2. Take Front Street, which becomes Edgewater Street, until it dead-ends at the foot of the landmarked Alice Austen House(2 Hylan Blvd at Edgewater St; 718-816-4506, aliceausten.org)."I like Alice Austen," says Stasa. "She was a photographer, owned pugs and was an enthusiastic cyclist."
3.At Fort Wadsworth, which picks up at the dead end, turn left on Bay Street and take in the spectacular view of the Verrazano-Narrows Bridge.
4. Enjoy the steep downhill, which takes you to a beautiful shady path along the beach. "You feel like you're on the West Coast," says Stasa. "You can swim at South or Midland beaches. They're a little dirty, but everyone goes in. And you're looking out onto the Atlantic Ocean." There's also a boardwalk with concession stands that gets Coney Island--busy in the summer. Spring is the best time to go.
5.Take Midland and Lincoln Avenues (avoid Hylan Boulevard) to the steep climb of Lighthouse Avenue.
6. The tiny Jacques Marchais Museum of Tibetan Art(338 Lighthouse Ave between St. George Rd and Terrace Ct; 718-987-3500, tibetanmuseum.org)sits at the top. "It's really sweet," says Stasa. "This Staten Island woman just collected art and created this haven, even though she'd never been to Tibet. It was her place to meditate."
7.For a less scenic but more direct route back to the ferry, follow Richmond and Vanderbilt Roads (Richmond becomes Vanderbilt) to Front Street, or retrace your path along the water.
8. Having earned some hearty eats, visit bistro Aesop's Tables(1233 Bay Street between Maryland and Scarboro Aves, 718-720-2005).Its ivy-draped back garden imparts a Zenlike feeling you can find only at the other end of a ferry ride.
Take the ride Download a pdf of the directions.
See more in Own This City