Stephan Delventhal, 26
37th St between Seventh and Eighth Aves
By Time Out editors Thu Mar 12 2009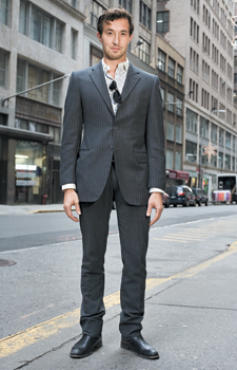 Photograph: Jay Muhlin
What are you up to? I'm on my way to Mood.
Not a nightclub—the fabric store, right? [Laughs] Yes. I'm starting a clothing line called Silas & Sky. It's resort wear, mostly.
Who's feeling resorty these days? Other than last-resorty? [Laughs] You know, I think we need a breath of fresh air. I'm launching in Guadalajara, so maybe I'll have more luck down there.
Who do you see wearing your clothes? I'm really designing for myself right now, and the girl I'd want to hang out with. My partner Gregory and I have a house in Puerto Vallarta. People there dress a little bit skanky. I feel like we can take that and do it in a way that feels more luxury.
Assuming the skanks will have the good sense to buy your clothes. Right.
Do you ever tire of your industry's superficiality? I go through phases. I came from a place where guys don't think about their weight. But all these guys at FIT were like, "Oh, I can't eat that or that," and the girls were even worse. When I was younger it was kinda fascinating, but now you have these same friends who are obsessed...and...ugh. I think maybe it's a little bit sad.
Do you get sucked into the obsession? Luckily my metabolism is reasonably fast, but when I hit 35 and start to get a bit of a belly...
You may have to move into outerwear. [Laughs] Outerwear—exactly.
More from Stephan
"After leaving the city for about 17 weeks last year, I don't think I could do it again. There's an energy here unlike any other energy. Whether it's good or bad, it's comforting."
"I was an Upper East Sider for a long time. Now I'm in the 30s. Am I happy to be living there? In the 30s?!? No, I'm not! But, um...it'll be all right."
Stephan says: "I'm really interested in real estate. There's this house in Hinsdale, Massachusetts, that I'm absolutely obsessed with. It's, like, 7,000 square feet and it's just been foreclosed on. It's, like, 200 years old and I can't stop thinking about it. It's only $139,000. Can you imagine?"
—Kate Lowenstein