Stephanie Rubin, 61
Thompson St between W Houston and Prince Sts.
By Kate Lowenstein Fri Nov 12 2010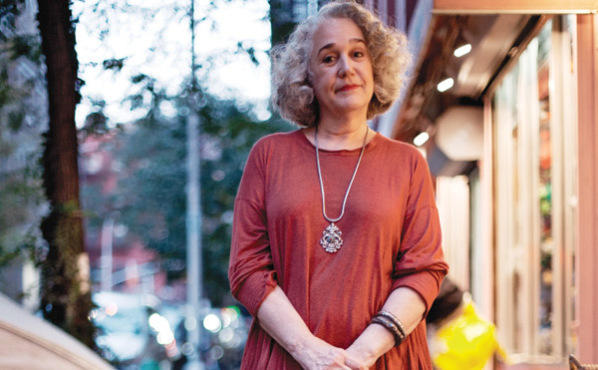 Stephanie Rubin, 61, Thompson St between W Houston and Prince Streets Photograph by Allison Michael Orenstein
So many women over, like, 30 don't want their age printed. I know, I know. I'm not embarrassed. That's what I am. My hair will attest to that.
When did you go gray? In my late thirties. I eventually embraced it. Recently, at a stamp show, a guy got up out of his booth to come over and said, "Make sure you follow your hairdresser wherever she goes!" And I will.
What if she moves to Utah? Then I won't. [Laughs]
Is that a Brooklyn accent? No, I was born in the Bronx, and have lived on the Upper East Side for more than 30 years.

Ever wondered what it would be like to live outside of New York? I've always wondered. I have a daughter who lives in Berkeley and I love it out there. But this is where all my friends are, and the rest of my family.
So you work in this store we're standing next to, I take it? Yes, Objects Plus Antiques. I've worked with the owner over the years. But the store is actually closing today. We've opened a new, wonderful local auction gallery called Capo Auction in Long Island City.
Are you an appraiser? I'm not. You just develop an eye over time. And you know, I think people are born with a certain sense.
You were just born knowing your zirconia from your diamonds. I was always into art, furniture and objects. And, you know, where else but New York could you go—outside of Europe—to find such a rich place for these things?
Hence you're not moving to Utah. [Laughs] Right!
More from Stephanie
"When I was a little girl, my mother used to take me to the Met Museum. One day, one of the guards could see how into one of the early-American rooms I was, and he actually held back the rope to let me in so I could go sit up on one of the beds."
"I find when we go home to the Upper East Side—as much as Soho or the West Village would be fun—it's quiet. From First Avenue east, the whole energy drops. It's like, I'm going out to the country now."
"I grew up in the northwest Bronx. I even went to NYU up in the Bronx—they had a campus, which is now owned by Bronx Community College. University Heights, it was called. There's a very famous piece of property there, the Hall of Fame, which is sort of like a rotunda that looks out toward the Harlem River. It has statues or heads of all these famous people."