Stephen Smith
Fifth Avenue and 18th St
By Time Out editors Thu Oct 5 2006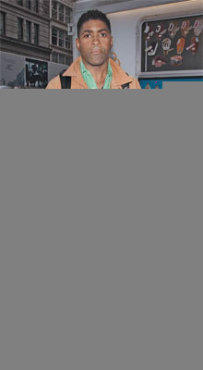 Stephen Smith Photograph by Donald Bowers
"I'd call my style urban-eclectic. I got this leather jacket at Loehmann's. You can get good bargains all over the city."
He must not be talking about real estate. Loehmann's (101 Seventh Ave, 212-352-0856) has men's leather jackets starting at $139.
How old are you? I'm a lot older than I look. I'll tell you, but you have to promise not to print it.
Aw, man. Then don't tell me. Why don't you want people to know? 'Cause in my industry, younger is better. Put it like this: I grew up listening to Hendrix, the Temptations, the Who....
And not on classic-rock throwback stations. [Laughs] No.
So what do you do? I race bicycles professionally. I'm actually about to leave for Argentina because I got invited to go to the Masters Pan Am game. I'm also the fitness director at Credit Suisse.
So you whip executives into shape. Yeah. It's not so bad. You're dealing with a certain type of personality in the financial industry...you know. It's a good stress reliever for them. And I do pretty well financially. It affords me the time to do other stuff. I also work for Crunch and Equinox.
Don't you ever get sick of fitness? Nope. It's my life. That's the reason why I win medals, trophies and money.
So you're not a Mister Softee eater, then? You kidding? Nope, nope, nope. Why, do I look fat ? [Laughs]
Not at all. Are you obligated to eat healthily because of your jobs? No, I'm obligated to myself. I train heavily: I put in up to 200 miles a week on the bike. We ride from Brooklyn all the way up to Nyack and back. Our training groups go from 7am to 9pm. We're serious. This is, like, the real deal.
Are you from New York City? Yes, I'm a native. I went from Brooklyn to Queens to Manhattan, where I lived for 15 years, and then I said, You know what? Back to Brooklyn. And I've been back in Park Slope now for about 15 years. Manhattan is too congested and crazy. And Brooklyn is the new Manhattan anyway.—Kate Lowenstein