Street fighters
The architects of NYC's unscripted spectacles claim the city as their playground.
By Dan Avery Wed Aug 8 2007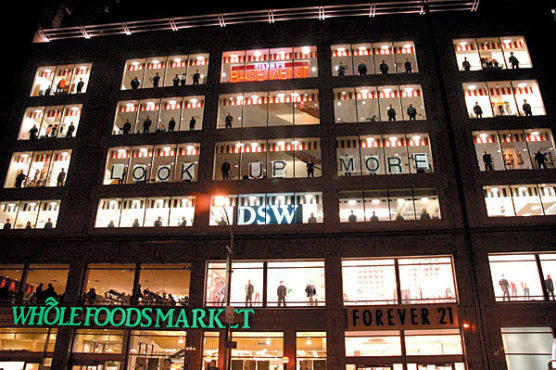 WINDOW ADDRESSING Agents of Improv Everywhere complete a mission in Union Square. Photo: Chad Nicholson/IMPROVEVERYWHERE.COM
Three minutes before 8pm on July 14—Bastille Day—an army of more than 3,000 souls stormed the Brooklyn Bridge. Dressed in white, the noisy horde filled the expanse's pedestrian walkway from end to end. But this was no military assault or protest rally. It was the opening salvo of "One Night of Fire," a massive transborough celebration organized by TheDanger (thedanger.com), a group at the forefront of what's been dubbed "senseless culture"—large-scale public productions staged without official sanction and for no other reason than because they can be. "We didn't have an agenda," says William Etundi, TheDanger's fearless leader. "The moment was the message—being in the street without permission and doing everything you possibly can, whether that's having a party on the subway or dancing in the fountain at City Hall Park."
Co-opting public spaces dates back to the counterculture movements of the 1960s. But the emergence of e-mail, blogs, text messaging and other nascent technologies has invigorated a whole new generation of merry pranksters, including the Madagascar Institute, Dark Passage and the House of Malcontents, who converted a Manhattan-bound F train into a makeshift living room earlier this year.
If these various factions have a central dispatcher, it's Jeff Stark, who's been sending out his weekly Nonsense NYC Listserv (nonsensenyc.com) since September 2000. Culling listings from blogs, press releases and other e-mail blasts, Stark notifies subscribers about everything from a Williamsburg loft party to a Hungry March Band performance to a boxing match between men in mutant chicken outfits.
"A lot of what we're doing here in New York is straight-up stolen from San Francisco," Stark admits, drawing a direct line between what he calls Gotham's "glorious amateurism" and SF-based groups like the Suicide Club and the Cacophony Society. (Stark helped originate New York's first Idiotarod race, another West Coast import.) "In San Francisco, you're expected to make your own fun. In New York, it's so easy to do nothing but attend top-notch dance, theater and film every night of the week," says Stark. "I love those things, but they reduce me to the role of a consumer. I want events where everyone brings their own creativity, not just the people we label 'artists.' "
Comedian Charlie Todd made his first foray into impromptu performance art in 2001, when he passed himself off as singer-songwriter Ben Folds at a local bar— garnering free drinks and telephone numbers all night. That same year, he founded Improv Everywhere (improveverywhere.com), which stages tongue-in-cheek "missions" that usually leave spectators scratching their heads. (Past endeavors have included a redheads-only protest of Wendy's and the annual "No Pants Subway Ride.")
"We do what makes us laugh, but we're also interested in reclaiming public space," says Todd, who also performs at the Upright Citizens Brigade Theatre with the improv troupe Reuben Williams. "If giant corporations can slap ads all over town, we should be able to blanket the city with comedy." The key to an IE event, he explains, is making the stunt somewhat plausible and never breaking character. "There's no 'reveal' moment. It's more interesting to let people draw their own conclusions, like, Who the hell were those people in their underwear?!?"
Though these participatory events can draw large crowds and disrupt traffic, the authorities seem to have adopted a mostly laissez-faire attitude. "We never give advance notice and we never ask for permission, so we don't know for sure how the police are going to react," says Etundi. "They're usually baffled at first, but when we explain we're celebrating the city, they appreciate it." The police who showed up at "One Night" were so accommo-dating, he says, "that it felt like we were buddies." (Ironically, a number of the participants had been arrested at Critical Mass rallies or the RNC convention in 2004.)
For Stark, who has worked on stunts with the Madagascar Institute, keeping on your toes is essential. "You have about a ten-minute window where you can get away with anything," he says. "If you keep things moving, you're not going to be that particular officer's problem for very long. And honestly, a lot of the cops are just laughing their asses off at the whole thing."
The real threat, argue the leaders of senseless culture, isn't the police, but rather an apathetic society that relies on others to provide entertainment. "Just because a bunch of reporters say New York nightlife is over doesn't mean you should give up," says Stark. "What are you doing to make it better? If you want dancing in the street, start dancing! Don't just sit on the sidelines bitching."
Share your thoughts