Tennis guide: How to live like you're rich
Four recession-savvy ways to feel wealthy.
By Drew Toal Thu Jun 18 2009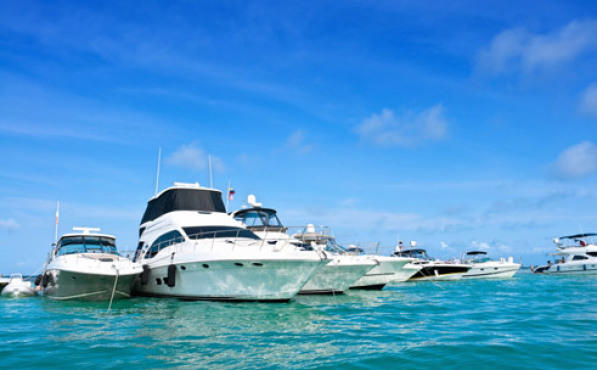 Eat
Eat Out editor, Gabriella Gershenson, recommends the salmon roe ($9.99--$39.99), stocked at various Fairway markets (fairwaymarket.com). It's cheaper than the black kind, and you can throw a swanky party at your apartment with caviar and 40s (that last one is our suggestion, not Gabriella's).
Relax
From what we hear from our loudmouth trustafarian friends, folks with money like to ride around on large boats. Better keep your dinghy out of the way, peasant. Get a taste of the boating life by letting Classic Harbor Line Yachts (sail-nyc.com) take you out for a day. A wine-tasting cruise embarks from Chelsea Piers Monday 22 ($85).
Collect
The Affordable Art Fair comes only once a year, but you can always buy artist-produced multiples at Printed Matter (195 Tenth Ave between 21st and 22nd Sts; 212-925-0325, printedmatter.org). Pick up a $2 copy of Forged Dedication by Gabriela Forcadell and Cecilia Szalkowicz—it's a blurry photograph of Thurston Moore playing guitar, with a dedication in silver ink.
Dress
Nothing says "I've got loads of cash!" like falling asleep in a tuxedo. A rental from Dante Zeller Tuxedo (201 E 23rd St at Third Ave; 212-532-7320, dantezeller.com; up to $175 for a weekend) can help make that black-tie dream a reality.
Play
Knights used to ride around on horses, kicking shit and dirt all over their loyal, lowly squires. And is there a more privileged sport than polo? Saddle up at the Bronx Equestrian Center (9 Shore R at City Island R, Bronx; 718-885-0551, bronxequestirancenter.com; $35 per hour).
NEXT Q&A with Bethenny Frankel and Ramona Singer, stars of The Real Housewives of New York City
| | | | | | | |
| --- | --- | --- | --- | --- | --- | --- |
| Best tennis courts | | Celebrity courts | | | | |