Term limits
By Time Out editors Wed Sep 2 2009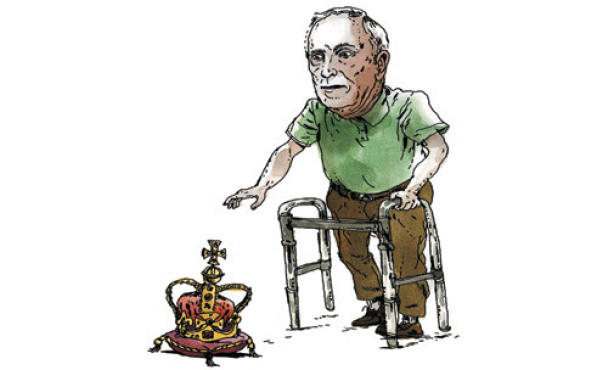 Illustration: Victor Kerlow
Twice before—in 1993 and 1996—New York City voted for term limits for the mayor, City Council, comptroller, public advocate, borough president and other positions. In fact, 1996's vote specifically rejected a third term.
Last year, Bloomberg asked the Council to change the law, even after publicly supporting term limits in the past. The city needed his fiscal acumen and steady hand to guide it through the fiscal crisis, he said. Another referendum would be too costly, and it was too late anyway, Bloomberg explained. Some weren't convinced. "It is certainly worth pointing out that there does not seem to be a groundswell from the public demanding the proposed change in the law," said Chris Keeley of Common Cause at a Council hearing on October 16 last year. Regardless, later that month the Council voted 29 to 22 to add a third term.
"Today is a sad day for New York's democracy," protested Rep. Anthony Weiner, D-Brooklyn/Queens after the vote, according to The New York Times. Queens Mayoral candidate Tony Avela said to his fellow councilman, "You should all be voted out of office for this."
If you're unhappy with what happened, show it at the voting booth, the law-changers said. Polls showed voters wanted a referendum. Some pundits predict a backlash. Will their prediction come true?
There's a "surprising level of awareness that this happened," points out Gene Russianoff, attorney for the nonpartisan watchdog New York Public Interest Research Group, who'll be watching in case Bloomberg appoints a promised charter commission next year to (conveniently) consider term limits again. But is this a deciding issue for voters, compared to Bloomberg's jobs and education initiatives?
One group wants to make it a deciding issue. Fed Up New Yorkers, a coalition of bloggers, tenant's-rights activists and housing advocates, recently launched an eponymous free newspaper with anti-Bloomberg screeds and reprinted blog posts. They portray Bloomberg as a self-styled king who's out of touch with the common man. The third installment of the paper has a cartoon of Bloomberg wearing a crown and sitting atop a pile of money. A crowd below is shouting, "No third terms!!!" Bloomberg responds, "Sorry, can't hear you."
The way the mayor circumvented the public was the rallying point for Fed Up New Yorkers, says editor Mike Dang. Last October, the "majority of New Yorkers felt it was wrong and overturning the will of the people. [The FUNY paper] is a reminder you were angry. You should be angry."—Michael P. Ventura