Thanksgiving restaurants: International
Say bonjour to these worldly takes on holiday classics.
By Jonathan Shannon Mon Nov 9 2009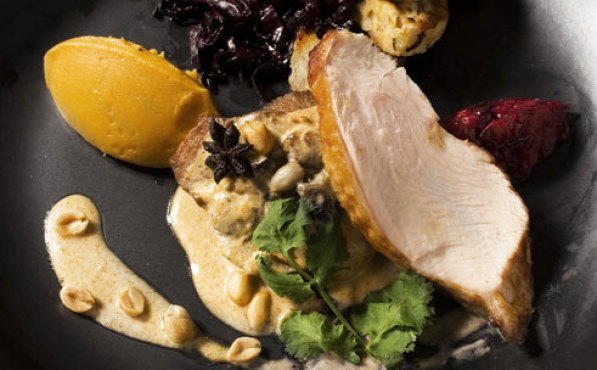 Kittichai
French: L'Absinthe
Sarkozy's palling up to Obama, so freedom food is now back on the Thanksgiving table. This Upper East Side French brasserie offers turkey with accoutrements, including chestnuts, wild mushrooms, braised endive, cranberry sauce and black truffle jus ($33) or 12 ounce strip loin steak frites. L'Absinthe, 227 E 67th St, between Second and Third Aves (212-794-4950, labsinthe.com). Seating 5:30--10:30pm.
Indian--Latin American fusion: Vermilion
Indian--Latin American fusion restaurant Vermilion celebrates its second Thanksgiving in New York. What will that entail? Bhuna bhutta roasted-corn soup, Indian black-cardamom-smoked turkey breast, Brazilian feijoada, Indian sarson ka saag, cranberry ginger chutney and pumpkin pie horchata. Vermilion, 480 Lexington Ave at 46th St (212-871-6600, thevermilionrestaurant.com). Seatings noon--10pm. $45.
Lebanese: Al Diwan
Bringing Lebanese cuisine to the Thanksgiving table, Al Diwan will serve a choice of turkey or lamb stuffed with rice, nuts, raisins, ground beef and Middle Eastern spices. Baba ghanoush, baklava and fattoush accompany the feast. Take out is available. Al Diwan, 210 Ave A at 13th St (212-375-1300, aldiwannyc.com). Seatings 5pm--midnight. $45.
Modern Italian: Alloro
Chef Salvatore Corea lets his creative impulse run wild in this small family-run trattoria. His twists include pumpkin ravioli over soft goat cheese truffles; and crispy turkey legs, foie gras and juniper berry sorbet with pumpkin ice cream to start. Alloro, 307 E 77th St between First and Second Aves (212-535-2866, alloronyc.com). Seatings 1--10pm. $55, children $20.
Thai: Kittichai
This Asian-lux restaurant, located inside the sleek 60 Thompson Hotel, offers a twist on traditional grub that will either be a refreshing change or downright sacrilege. Their turkey will be prepared osso buco and braised in Massaman curry. Personally, we admire such Bangkok-dangerous daring applied to the standard American fare. Kittichai, 60 Thompson Hotel, 60 Thompson St between Broome and Spring Sts (212-219-2000, kittichairestaurant.com). Seatings 4--10pm. Four courses $55.
Traditional restaurants | Non-traditional restaurants
International restaurants | Catering options