Thanksgiving restaurants: Nontraditional
It's really a holiday when someone else does the dishes.
By Jonathan Bender Mon Nov 9 2009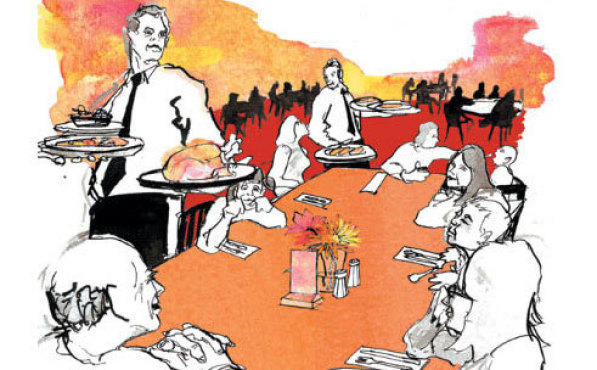 Illustration: Brett Affrunti
Mix up the menu
Kittichai
It's a classic love story when turkey osso buco meets Massaman curry. Here, pan-Asian food is served Thanksgiving-style, in all the familiar flavors—roasted pumpkin coconut-galangal soup with coriander crusted pumpkin seeds alongside warm five spiced doughnuts, thai bird chili, and chocolate-mekhong whiskey (four courses $55). 60 Thompson St between Broome and Spring Sts (212-219-2000, kittichairestaurant.com) Seatings 4--10pm.
Pure Food and Wine
You don't want to slave over a hot stove? Well, neither do the chefs at Pure Food and Wine. This vegan hot spot has a raw-food menu with a rosemary cheese stuffed celeriac ravioli, with chive cream, wilted baby spinach and celery leaf, and balsamic and cranberry reduction for the holiday—it might just keep your pilot light off for good (four courses $72, with wine pairing $100). 54 Irving Pl between 17th and 18th Sts (212-477-1010, purefoodandwine.com) Seatings 3--9pm. Take out and delivery available.
davidburke & donatella
Mermaids and other seagoing folk can rejoice over David Burke's fishy holiday menu. A lobster and apple chowder is followed by Scottish salmon "casino" with corn puree and spaghetti squash (three courses $75). 133 E 61st St between Park and Lexington Aves (212-813-2121, dbdrestaurant.com) Seatings noon–8:30pm.
Set a good scene
The River Café
The waterfront isn't the only killer view here; the sight of black-tied waiters with tableside caviar service ($95 per ounce) is just as snazzy. Try it with their Thanksgiving four-course ($125) fare. 1 Water St at Old Fulton St, Dumbo, Brooklyn (718-522-5200, rivercafe.com)
Porter House New York
Like tender beef? Then you shouldn't trust your Thanksgiving meal to loony Aunt Mabel—she'd serve it black. The formal dining room at this Columbus Circle spot will make you want to sit up and eat with the manners your mama taught you. 10 Columbus Circle between 58th and 59th Sts, fourth floor (212-823-9500, porterhousenewyork.com)
Black Duck
One glass of port by a roaring fire and suddenly two hours with the family doesn't seem so bad. The traditional three-course menu is a bargain ($59) and you can always drop off your tipsy in-laws at the Park South Hotel, conveniently attached. 122 E 28th St between Park and Lexington Aves (212-204-5240, blackduckny.com) Seatings 3--9pm.
Go casual
Swich
Wish November came around a couple times a year? So do the good folks at Swich, and that's why they named their holiday-inspired sandwich "Thanksgiving Every Day." Hot turkey and homemade stuffing on cranberry-pecan bread ($8.25) will have you giving thanks for the invention of the sandwich press. 104 Eighth Ave between 15th and 16th Sts (212-488-4800, swichpressed.com) Mon--Fri 9am--11pm, Sat--Sun 11am--10pm.
Chat 'n' Chew
Oh, how happy you'll be to see your leftovers from Chat 'n' Chew in the fridge. And there will be leftovers—just like the best Thanksgivings, it's all about the sides: skin-on smashies ($4.50), BBQ sweet potatoes ($4.50) and mac and cheese (small $6.50, large $10.95). 10 E 16th St between Fifth Ave and Union Sq West (212-243-1616, chatnchew.ypguides.net) Mon--Fri 11am--midnight, Sat 10am--midnight, Sun 10am--11pm.
Stay in
Clinton St. Baking Co. & Restaurant
Everyone likes a guest on Thanksgiving, especially one bearing gifts. Grab a pumpkin butterscotch pie ($24, serves six to eight) and you can write your ticket to any holiday get-together in town. 4 Clinton St between E Houston and Stanton Sts (646-602-6263, clintonstreetbaking.com) Mon--Fri 8am--4pm, 6--11pm; Sat 10am--4pm, 6--11pm; Sun 10am--4pm.
Traditional restaurants | Non-traditional restaurants
International restaurants | Catering options