The A-list
By Time Out editors Tue Mar 18 2008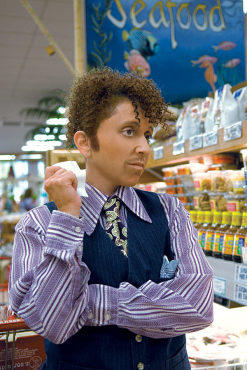 Dr. Bloom Photograph: Barbara Green
You can tell a lot about a person by their grocery list—where they shop, what they eat, who they feed, maybe even how often they get laid.
Ex–New Yorker Hillary Carlip started collecting lists when she was living on the Upper West Side. "The first one I ever found was at the Red Apple grocery on Broadway," says the author of the 2006 memoir Queen of the Oddballs: And Other True Stories from a Life Unaccording to Plan. "It had RED APPLE written at the top—like the person might forget—and then TWIZZLERS, PEANUT BRITTLE, GUM and DENTAL FLOSS. I immediately pictured the person who must've left it behind."
Taking her cue from artsy identity thieves like Cindy Sherman and Tracey Ullman, Carlip dresses up as 26 list-makers in her new book, A La Cart: The Secret Lives of Grocery Shoppers. "I imagine who they are and write little stories about them," she says. "Orlando, for example, wants desperately to get into TV, but ends up running his producers' errands instead."
Only once was Carlip asked to leave the premises for taking pictures. So real are the people she became, strangers treated her differently based on her appearance. Men gathered around busty ex–porn star Pammy, offering to help carry her bags; but as frumpy vet assistant Karen, she felt "sad and invisible." Says Carlip, "With all the voyeurism that goes on nowadays, I think I've really hit a nerve. It's wild to live someone else's life."
—Ashlea Halpern
A La Cart is out Tue 18. Carlip will sign copies at Barnes & Noble (97 Warren St at Greenwich St, 212-587-5389) Mar 21 at 7pm. To upload a photo of your own grocery list, go to alacartthebook.com.