The U.S. Open
It's turning 40! Here's your guide to scoring the best tix, most eBay-able autographs and hottest MILFs.
By James Y. Lee Tue Aug 12 2008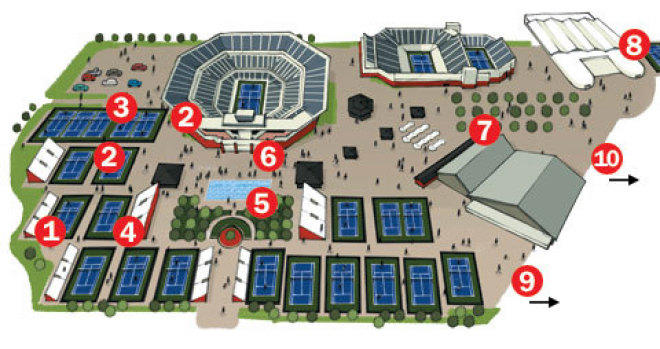 Illustration by Jérôme Mireault
RECOMMENDED: Coverage of this year's US Open
Mark your calendar!
On Sun 24, gates will bust open at 10am for Practice Day, a free event where 5,000 average joes watch top players run through their drills. Arrive early, lest you wish to be trampled by Swiss superfans.
1. We asked TV commentator Patrick McEnroe for his short list of the players to watch in the discounted opening rounds.
On the men's side…
• "Six-foot-three Ernests Gulbis from Latvia burst on the scene in the last six months. He's a big hitter and a top junior. He recently beat James Blake in the French Open, where he made the quarters."• "Jesse Levine is a good American guy: a grinder and real hard worker. He's feisty and gets the crowd into it."
On the women's side…
• "Victoria Azarenka has a great all-court game. She's in the top 20 and quite good—she just turned 19 on July 31."• "Caroline Wozniacki from Denmark has been a real good player with an excellent two-handed backhand. And she just turned 18!"
2. Best seats for cheap arses: the grounds courts
Watch 256 bottom-tier players duke it out at the free-to-watch Qualifying Tournament, through Fri 22. Or buck up and purchase evening-session tickets ($22–$80) during the main draw's first week; they grant you access to Arthur Ashe's nosebleed section.
3. Where to mack: practice courts P1–P5
Dispatcher Seth Rogers may work the PA system for the U.S. Open, but he recommends doing your smoothest talking at the practice courts in the early hours before top-seeded matches. "Check out the girls that are checking out Federer on P5 or Roddick on P1," advises Rogers. "That's if you like girls who like those types of guys." Thankfully, our type is any girl that shows interest.
4. Where to play fetch: Court 7
Every June, there's an open tryout to be a ball boy or girl here on Court 7. Stan Stolar, 69, was the oldest man to audition this year: "Everybody was with their parents; I was with my cardiologist," he says. Sadly, Stolar didn't make the cut. "I threw the ball with too much of an arch; you gotta go for a harder throw with more zip."
5. For boozers: South Plaza
Hit the Grey Goose stand (a.k.a. the Drop Shot) and head to the benches; you can still catch the games on the JumboTron at the stadium's entrance.
6. For MILF lovers: South Plaza
Enjoy good old-fashioned MILF watching during Arthur Ashe's Kids' Day on Sat 23. The plaza fountains double as a hot-mommy oasis.
7. Best corner for kissy-kissy: Kevin's Korner
José Pinales is a male escort—that is, he guides players like Rafael Nadal through throngs of spectators. He also knows about love: "I'm a natural, a gift from God," he brags. This garden gives you a place to lock lips in privacy, promises Pinales. "You can enjoy your ice cream and…talk."
8. Where to score an autograph:
East practice courts
Most of the hotshots warm up on the practice courts to the west, but a few venture here. "It's less busy," says practice court supervisor Agnes Wiski. "I schedule players from 8:30am until 7pm." Whose John Hancocks are worth the most dough? A signed Roddick trading card goes for $1 on eBay (plus $4 shipping!), a Nadal-signed tennis ball commands $10, and a Federer-etched Wilson No. 6 racquet pulls $500.
9. Where to cool off: Flushing Meadows Corona Park Pool
The Open's locker rooms are among the best in the country. "I'd even call them elegant," says locker-room supervisor Carl Munnerlyn, who likes to do his unwinding at the new Flushing Meadows Corona Park Pool (Avery Ave at 131st St, 718-271-7572). "It's Olympic-size and the locker rooms are nice."
10. Where to eat cheap: Pitch & Putt
Amit Sukhram works the front desk at the Open and knows better than to eat at the overpriced on-site food court. Instead, he heads to the Pitch & Putt Snack Bar (718-271-8182), just north of the USTA Billie Jean King National Tennis Center. The snack bar sells $4.50 burgers and $2.50 drafts.
Ready to go? The U.S. Open runs Mon 25 through Sept 7. For more info, call 718-760-6200 or go to usopen.org. For tickets, call 866-673-6849 or go to ticketmaster.com.
SWING OUR WAY!
Don't give a flip about tennis but love you some Wii? Join TONY for an alcohol-fueled Wii Tournament on Mon 25 at 7pm at the Village Pourhouse.
See also: