Things to do in New York today
The day's best things to do in New York—including free and cheap activities, concerts, screenings, shows, parties and more. It's your social emergency savior.
The Bell House pays tribute to the '90s with a dance party, so get ready for rock, pop, R&B and hip-hop from the decade of Vanilla Ice, Jesus Jones and Sugar Ray.
Appearing under the expansive banner of Carnegie Hall's "Vienna: City of Dreams" festival, this exemplary modernist cabal sheds some much deserved light on the work of three Vienna-based composers—Olga Neuwirth, Bernhard Gander and Pierluigi Billone—with chamber works on March 4 and large-ensemble premieres on March 7. Reservations are required, and can be made via acfny.org or by calling 212-319-5300 ext. 46.
Gallerist José Freire opened this second venue of his noted Soho gallery in the spring of 2011.
47 Wooster St, between Broome and Grand Sts
More info
See more free things to do today
---
---
Enthralling local punk-cabaret chanteuse Shilpa Ray, who garnered a dream cosign last year when she toured with Nick Cave, presents her goth-gone-black-comedy dirges, as heard on 2013's It's All Self Fellatio EP. Helping to set the stage is Bambara, a local trio that blends postpunk, shoegaze, and post-hardcore into a menacing and hypnotic swirl.
See more of today's top concerts
---
Today's best arts and culture
Price band: 2/4
Critics choice
The newest addition to AMNH's Hayden Planetarium launches you on an astronomical adventure—from Jupiter's atmosphere to the Mount Wilson Observatory in California, where Edwin Hubble first discovered other galaxies. Learn how dark matter (a.k.a. invisible matter) and dark energy (the force that accelerates the universe's expansion) shape outer space, and follow scientists on their journey to unearth cosmological mysteries. Dr. Neil deGrasse Tyson narrates.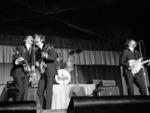 On the 50th anniversary of the Fab Four arriving stateside, the Public Library for the Performing Arts and the Grammy Museum showcase memorabilia, recordings, videos and photos of the mop-topped musicians, and the Beatlemania that followed them.
Price band: 2/4
Critics choice
Treat your eyes to some much-needed color therapy at the New York Botanical Garden's annual orchid explosion. This year's Floridian theme combines thousands of tropical blooms with modernist architecture; the display was inspired by an award-winning garden that landscape architect Raymond Jungles designed in 2005 for Judge Richard K. Eaton and MCNY president Susan Henshaw Jones. There's even a re-creation of the couple's backyard oasis for us humble apartment dwellers to enviously admire.
See more of today's best arts and culture
---
Tonight's best comedy show
Price band: 1/4
Critics choice
Queer comic Paul Hutcheson returns to NYC from his home in that vast nation to our north as part of the Frigid New York festival. His cohorts and "honorary Canadians" for these late-night shows include CJ Sawchyn, Fay Slift, Light Fires, Mike Albo, the Swimming Pools, Ben Lerman and Kristen Becker.
See more of tonight's best comedy
---
Tonight's best nightlife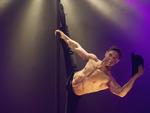 Rated as: 4/5
Price band: 3/4
Critics choice
La Soirée. Union Square Theatre (see Off Broadway). With ensemble cast. Running time: 2hrs. One intermission. La Soirée: In brief The team behind the 2006 Spiegeltent spectacular Absinthe returns to New York with another sexy razzle-dazzle of cabaret, vaudeville and neoburlesque. Performers include stars of the acclaimed troupe La Clique. La Soirée: Theater review by Adam Feldman [Note: The lineup of acts has changed since this review was written. The English Gents, Stephen "Bath Boy" Williams and Mooky Cornish are now joined by performers including Cabaret Decadanse, Marawa and Scotty the Blue Bunny.] Spice is the life of variety in the delectable La Soirée, a saucy revue that punches up neocircus, comedy, burlesque and cabaret with generous dashes of hot pepper. Much of the show was presented in New York City in 2006 at the Spiegeltent, under the name Absinthe; thanks to the core strength of its gifted performers, it is very enjoyable in this second helping. Hunky-dory acrobats provide most of the flesh. Denis Lock and Hamish McCann, billed as the English Gents, bring stiff upper lips and ripped upper bodies to a witty hand-balancing act, in which they affect imperturbable British gentleman's-club airs while performing impressive feats of strength and flexibility. (McCann returns later for a slow, graceful Chinese-pole dance.) And the sculpted Stephen Williams, dressed only in a tight pair of blue jeans, makes the most of a bathtub and hanging straps in a splashy seat-wett
100 E 17th St, between Union Sq East and Irving Pl
$49–$130
Fri Mar 7 - Sun Mar 30
Buy tickets
The Bell House pays tribute to the '90s with a dance party, so get ready for rock, pop, R&B and hip-hop from the decade of Vanilla Ice, Jesus Jones and Sugar Ray.
Price band: 2/4
Critics choice
Burlesque and variety headquarters the Slipper Room provides plenty of entertainment on the weekends, attracting the cream of the city's scene for plenty of bump-and-grind fun. Shows are at 10pm and midnight; check the club's website for the (generally awesome) lineup.
See more of tonight's best nightlife
---
---
You might also like
---