Things to do in New York today
The day's best things to do in New York—including free and cheap activities, concerts, screenings, shows, parties and more. It's your social emergency savior.
Meatpacking District den of iniquity the Raven hosts a night that aims for an immersive, surrealistic after-dark experience—or, as the crew behind the party puts it, a place where "the Great Gatsby meets Greek mythology, and old Hollywood meets Hades."
Sean Patton and Chesley Calloway welcome stand-up comics to the stage in this weekly show.
Urban Bear king Robert Valin and DJ Damian, the guys who bring you Piggy Bear at the Eagle, serve up this weekly party featuring cheap booze and bearish boys.
See more free things to do today
---
Today's best food and drink events
For this Time Out Offer Event, enjoy a muti-course Italian meal (pizza, antipasta) and wine for two.
Maritime Hotel, 363 W 16th St, at Ninth Ave
$59
Thu Dec 12 - Tue Dec 31
Buy tickets
For this Time Out Offers event, enjoy a live performance, along with cocktails and appetizers for two, at the Metropolitan Room.
For this Time Out Offers event, learn how to bake two different cupcake recipes, how to work a mixer and how to whip up frostings.
240 Seventh Ave, between 4th and 5th Sts, 11215
$40
Thu Dec 12 - Thu Jan 30
Buy tickets
---
Price band: 1/4
Critics choice
Singer Becca Stevens has made a name for herself through her work with jazz-based projects led by Brad Mehldau, Sam Sadigursky and Travis Sullivan. But in her own projects—such as the eponymous band you'll hear from here—she's fashioned a sound all her own, with airy, brook-clear songs equally touched by jazz sophistication and homespun folk charm.
Price band: 1/4
Critics choice
They may not know it, but most performers associated with the local antifolk scene bear the palpable mark of Peter Stampfel, the holiest of the Holy Modal Rounders. The septuagenarian outsider-folkie remains a fantastic performer, with a nicely skewed batch of songs and one of the warmest smiles in the city.
See more of today's top concerts
---
Today's best sample sales and shopping events
Price band: 2/4
Critics choice
In its 12th season, this outdoor market boasts more than 125 artisans selling everything from clothing and accessories to food and hot drinks. Gift ideas include Diana Warner New York rose-gold necklaces ($128), SOVL NYC recycled messenger bags ($180) and Brazilian Home Collection hand-painted lamps ($350–$650).
Now in its 20th season, this European-style winter market boasts more than 150 local and national vendors hawking an impressive selection of handcrafted gifts, ranging from jewelry and accessories to leather goods and artwork. Look for Kristiana Parn stationery sets (six note cards for $18), Stories mounted art prints ($45 each), Organic Treatment facial serums ($38), and Pageant Print Shop antique Brooklyn and Manhattan maps ($200).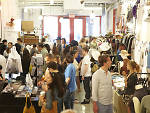 Brooklyn purveyors set up shop across the river at Artists & Fleas' seasonal pop-up bazaar, situated inside Chelsea Market. Expect to find trendy and noncommercial holiday-themed gifts vetted by husband-and-wife team Amy Abrams and Ronen Glimer, who ensure that every item is locally made and well crafted. Among the 30-plus vendors are bag designer Pamela Barsky, vinyl slinger Eat Records and vintage seller Brooklyn Bleu. Enter the building at the corner of Tenth Avenue and 15th Street.
See all sample sales and shopping events this week
---
Today's best arts and culture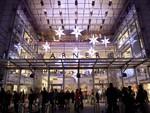 Take a break from Christmas shopping and check out Time Warner Center's state-of-the-art holiday light display. The spectacle features a dozen 14-foot LED stars that do a colorful "dance," flashing more than 16.7 million color mixes in time to classic yuletide tunes. You'll be so moved, you won't even care that you maxed out your MasterCard getting Aunt Judy that back massager she's been wanting.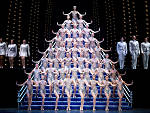 Price band: 2/4
Critics choice
You'll get a kick out of this holiday stalwart, which—after more than eight decades—still features Santa, wooden soldiers and the leggy, spunky Rockettes. In recent years, new music, more eye-catching costumes, and advanced technology were introduced to bring audience members closer to the performance.
Price band: 2/4
Critics choice
Festooned with more than 500 meticulously hand-folded paper ornaments, this year's tree is inspired by the museum's new "The Power of Poison" exhibit, meaning you'll spot toxic mushrooms, poison ivy, spiders, snails and jellyfish. In addition to the venomous flora and fauna, the stationery has been fashioned into popular literary characters well versed in lethal substances, including Macbeth's witches and Sherlock Holmes. Do some sleuthing of your own in the exhibit proper, where you can use forensic clues (and museum iPads) to solve mysterious poisoning cases.
See more of today's best arts and culture
---
Art-house and indie cinema screenings today
Price band: 1/4
Critics choice
Get to know a different campy film classic each week at this long-running series. Sassy green-haired Hedda Lettuce hosts the 7pm shows. After the screening, bring your ticket to XES Lounge (157 W 24th St between Sixth and Seventh Aves) for one free drink.
Price band: 1/4
Critics choice
Ozu's final film takes the basic plot of his stirring Late Spring (tensions brew between a widowed father and his daughter who refuses to marry) and creates something related yet distinct, mostly by concentrating on various supporting characters.
See all art-house and indie cinema screenings today
---
Tonight's best comedy show
Price band: 3/4
Critics choice
As with many no-longer-young comics, this member of the Wayans clan now focuses his material on the vagaries of family and parenting, but he's still essentially the same guy we fell in love with on In Living Color. And if you look closely, you can still make out the fluffy wig, bulbous red nose and loaded sock of Homey D. Clown.
See more of tonight's best comedy
---
Tonight's best nightlife
Doc Wasabassco and his array of burlesque artists team up with Starknaked Industries—the force behind technological marvels such as Stormy Leather's Cyclon, Nasty Canasta's grinder and Marlo Marquise's machete ladder—for the crew's last major event of 2013. Ms. Leather, Ms. Canasta and Ms. Marquise will all be on hand, as will the awesome Evelyn Vinyl, Go-Go Harder, Hazel Honeysuckle, Lil' Miss Lixx, Living Statue Galatea, Mala Morrigan, Sapphire Jones, Stella Chuu and Trixie Little.
Price band: 1/4
Critics choice
Fred Falke has been one of the major players of the French house scene since the late '90s, ever since the release of the Jets-sampling club smash "Intro" (produced with Alan Braxe). Nowadays, the veteran producer spends his studio time remixing the likes of Katy Perry, Lana Del Rey and Selena Gomez. The London songwriting and production whiz Starsmith plays his highly burnished beats as well, with local spinner Friendly Greg chiming in with a DJ set.
Price band: 2/4
Critics choice
The former leader of the Institubes imprint (and current master of Marble), Paris maverick Surkin plays his electronic-house and synth-funk sounds in Output's main room. Also on the bill: his Marble labelmate Canblaster (a member of the Club Cheval posse) and Kaviar Disco Club's Beto Cravioto and Travmatic.
See more of tonight's best nightlife
---
---
---
Write your own review