Tiny Kitchen Recipes: Super Bowl guacamole from Lottie + Doof
More than 100 million pounds of avocados will be consumed on game day. Join the crowds in preparing and snacking on the classic Super Bowl dip.
By Marley Lynch Wed Jan 29 2014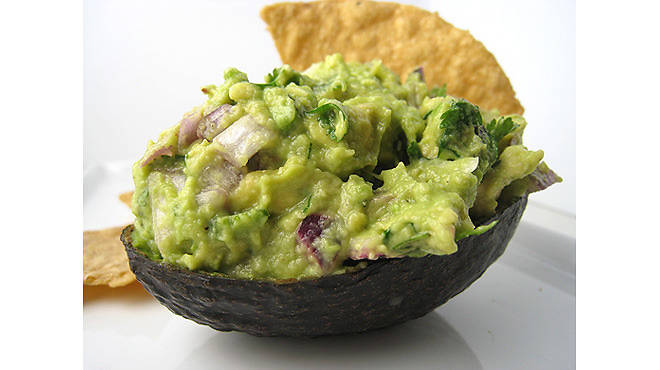 Guacamole from Lottie + Doof Photograph: Tim Mazurek
Welcome to Tiny Kitchen Recipes, a feature in which we ask chefs, writers, and food bloggers in New York City and beyond to share a recipe with us. Always wallet-friendly, these creations are feasible whether you live to cook or recently stopped using your oven for shoe storage.
RECOMMENDED: All recipes from us
For some, stocking up on delicious game-day snacks is even more important than the Super Bowl itself. And guacamole is among the most popular nibbles; in fact, football fans are expected to consume 104.2 million pounds of avocados, according to the Hass Avocado Board. If you'll be among those enjoying the tasty spread on Sunday, we've got you covered with a classic guacamole recipe from Chicago blog Lottie + Doof. And remember: Any guac is only as good as the avocados it uses, so hunt around for the creamiest green fruits you can find.
Guacamole from Lottie + Doof
- 4 Hass avocados
- 1/4–1/2 red onion, diced (about 1/2 cup diced red onion)
- Bunch of cilantro, chopped
- 2 limes
- 1/2 habanero/serrano chili, stemmed and seeded (depending on how hot you want it, you can add seeds)
- Salt to taste
- Black pepper
Put pitted avocados in bowl. Add red onion, and the juice of one lime, cilantro and chili. Mash contents with fork. Taste, and add salt, pepper and more lime juice until it tastes good to you.
Serve with tortilla chips and beer.
Recipe and photograph: Tim Mazurek, Lottie + Doof.
You might also like
---
What do you think? Tell us below!
Send tips and cat photos to:
Editor: Marley Lynch (@marleyasinbob)
marley.lynch@timeout.com
Time Out videos
---
---
@TimeOutNewYork
Subscribe to Time Out New York on Spotify for playlists and recommendations from our Music team.


Check out New York's best restaurants, hottest street style, cool apartments and more.