Todd Pangilinan, 18
34th St at Eighth Ave
By Time Out editors Thu Apr 26 2007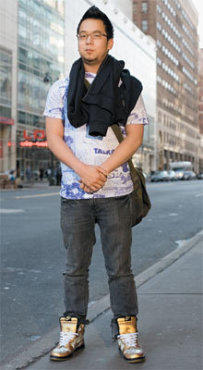 Todd Pangilinan Photograph by Jay Muhlin
"I've always worn my sneakers with the tongues out. I get criticized for it, but it's all good. This way you can see the entire shoe."
What do you do? I'm a freshman at Baruch College, majoring in finance.
Is freshman year treating you well? It's hard. I also work five days a week at the Staten Island Mall, so there's not much time for having fun, sadly.
What are you up to today? I'm going to a conference for YourVoice, a business that's just starting to get big. There are a lot of people in the company making a lot of money, so hopefully within the year I'll be one of those people.
A moneymaking venture, eh? Basically. A lot of people are money hungry.
Including you? Yes.
So far your answers are right in keeping with the dollar bills on your sneakers. [Laughs] I love sneakers. This is my hottest pair.
Are those real bills? Yep. I bet the Nike sweatshop workers were hoping there'd be leftovers. There are only five pairs of these shoes in the world, actually. They were customized by a famous graffiti writer.
Did you pay an arm and a leg for them? I bought them for $125 in California three years ago. Then I put them on eBay just to see how high the price would go.
And? I was offered two Gs.
But you didn't sell them? Nah; I'm one of the lucky few who own them. They're sentimental to me.
I guess you're not too money hungry after all. Guess not.
Does your shirt have some great story too? I got this at Supreme skate shop in Soho. It's a limited-edition collaboration with the graffiti artist Ari. I paid $28 for it but I had to wait in line for four hours to get it.
So pretty much no one else in the world has the outfit you've got on today. Pretty much.
Is that a faux-hawk? It's a Mohawk.
Do you use egg whites to hold it up? Huh? I've never heard of doing that. I use gt2b glue.
You certainly defy the stereotype of a clean-cut businessman. [Laughs] Yeah. I'm going to have to clean up my look if I go into finance.—Kate Lowenstein